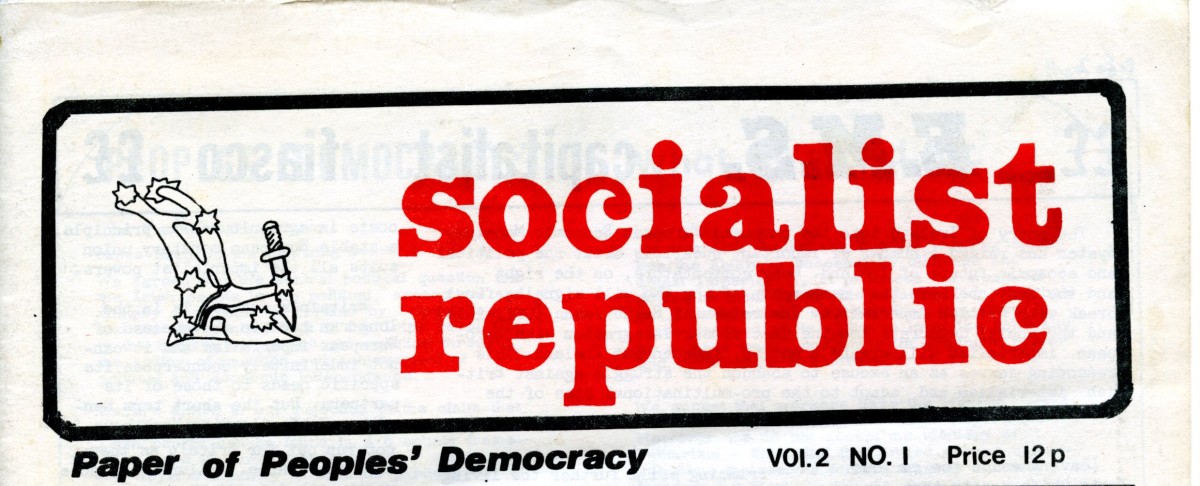 About
Socialist Republic was first published in 1975 by the Revolutionary Marxist Group, who were called the Movement for a Socialist Republic from 1976. When that group merged with People's Democracy in 1978, it became the paper of People's Democracy, replacing their Unfree Citizen.
The first edition is subtitled "incorporating the Plough", which was the paper's predecessor from 1971-74.
Contributors
Eve Adam, Joan Brady, Alan Bruce, Maurice Coakley, Felice Cohen, Dave Collins, James Conway, Sue Corrigan, Joe Craig, Siobhán Dillon, Pat Donnelly, Michael Farrell, Hugh Flynn, Áine Furlong, James Gallagher, Martin Mac An Ghoill, Joe Harrington, Paul Hurley, Sue Jackson, Brendan Kelly, Denis Larkin, Pat MacDonogh, Ciarán MacNamidhe, Ruaidhri MacNeill, John Magee, Sean Marmion, John McAnulty, John McGeown, Ian McLean, John Meehan, John North, Pat O'Connor, Sarah O'Hara, John O'Leary, Rose O'Mahony, Sue Pentel, Mike Pinter, Anne Speed, Glen Spray, Noel Vincent
Note: This list is not exhaustive. Only named authors with entries in the archive are listed here.
---