Socialist Republic, No. 5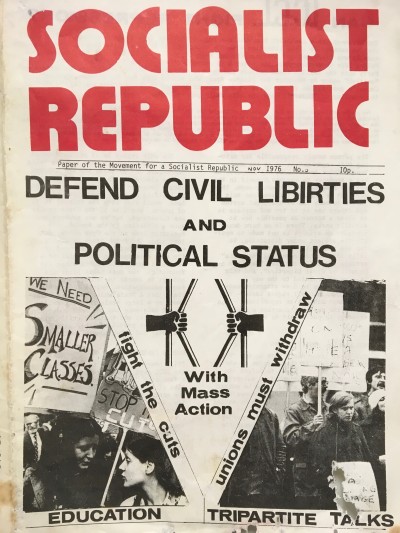 Please note:  The Irish Left Archive is provided as a non-commercial historical resource, open to all, and has reproduced this document as an accessible digital reference. Copyright remains with its original authors. If used on other sites, we would appreciate a link back and reference to The Irish Left Archive, in addition to the original creators. For re-publication, commercial, or other uses, please contact the original owners. If documents provided to The Irish Left Archive have been created for or added to other online archives, please inform us so sources can be credited.
Commentary From The Cedar Lounge Revolution
12th November 2018
Many thanks to the person who forwarded this to the Archive.
This edition of Socialist Republic joins others in the Archive. It has a range of interesting pieces – not least one on'Armed Struggle: The Way Forward?'. This argues that the Irish National Liberation Army actions''[are] obviously mid-way between the a latest pacifism of the Officials and the militarism of the Provos, whose definition of a 'military target' encompasses a great deal more than the British Army.'
By striking this balance the INLA apparently believes it has found the Marxist mean between social reformism and traditional Republicanism.
And it argues that both the INLA and the Officials despite 'vast differences in their tactics'' are 'both strategically linked to the republican tradition by their concept of the Irish People' which it suggests are regarded as 'an inert mass which can be activated only applying action from without.'
It contrasts this with its own view that the 'working class constitutes the original dynamic and creative forces which makes revolutionary action possible'. And it continues by arguing that armed action 'requires not just the passive approval of the masses but their active support.'
Other pieces critique the Irish Council for Civil Liberties, state support for Noel and Marie Murray in light of their death sentence, examine China after Mao and look at the issue of Education. All told a varied and wide-ranging contents.
More from Socialist Republic
Socialist Republic in the archive
---