Socialist Republic, Vol. 5, No. 4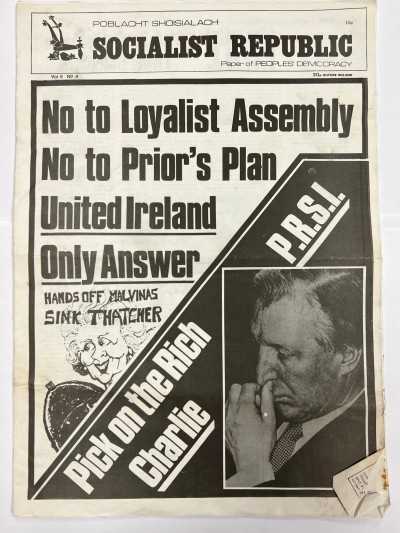 Please note:  The Irish Left Archive is provided as a non-commercial historical resource, open to all, and has reproduced this document as an accessible digital reference. Copyright remains with its original authors. If used on other sites, we would appreciate a link back and reference to The Irish Left Archive, in addition to the original creators. For re-publication, commercial, or other uses, please contact the original owners. If documents provided to The Irish Left Archive have been created for or added to other online archives, please inform us so sources can be credited.
Commentary From The Cedar Lounge Revolution
7th November 2022
This document from People's Democracy, produced in 1982, has articles on issues as diverse as elections in El Salvador, the Malvinas conflict, campaigns to ban plastic bullets in Northern Ireland, the then forthcoming referendum on abortion and cuts in PRSI.
It also has an article on the Workers' Party on foot of a Magill investigation into that party. This latter argues:
The skeletons –or should we say bodies — in the cupboard of Sinn Fein the Workers Party, now simply the Workers Party, have finally been revealed by MagilI Magazine. The public can now see the party of "Peace, Work and Class Politics" in its true colours. The party which outdoes the main establishment parties in condemning "terrorism" and "subversion", is dramatically revealed to harbour within its own ranks a paramilitary organisation … the Official IRA.
The editorial argues against the latest British initiative in the North, the plan by Jim Prior.
The article on the abortion amendment asserts:
The issue of abortion has been brought to the centre of the political stage. Forward is to unite and oppose the amend­ment, build and strengthen the women's movement –backward is to concede to the myth of a "Catholic", repressive, Ireland locked into British domination and backwardness.
More from Socialist Republic
Socialist Republic in the archive
---