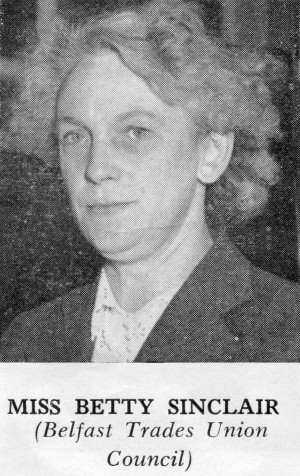 About
Betty Sinclair was a communist activist in Northern Ireland. She joined the Revolutionary Workers' Groups (RWG) in 1932, and became a leading member of the Communist Party of Ireland when it was established by the RWG in 1933, remaining active in the Communist Party of Northern Ireland (CPNI) when the CPI dissolved in 1941. She stood unsuccessfully for the CPNI in Belfast.
Sinclair was a founder of the Northern Ireland Civil Rights Association (NICRA) and served as the Trades Council representative on its steering committee.
Picture: ITUC Congress Bulletin, 1955.
If this is you or you have corrections or clarifications, please let us know
in the comments
or by
email
.
Identifiers
---