Marxism Today: Special Irish Number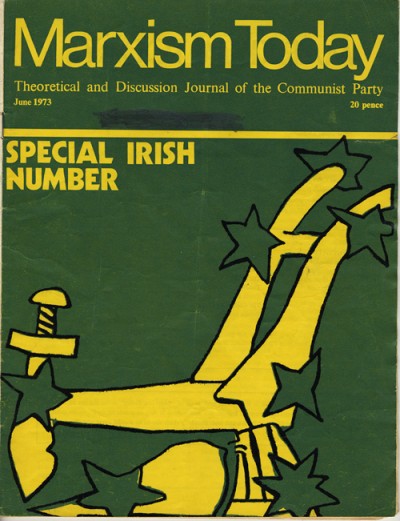 Please note:  The Irish Left Archive is provided as a non-commercial historical resource, open to all, and has reproduced this document as an accessible digital reference. Copyright remains with its original authors. If used on other sites, we would appreciate a link back and reference to The Irish Left Archive, in addition to the original creators. For re-publication, commercial, or other uses, please contact the original owners. If documents provided to The Irish Left Archive have been created for or added to other online archives, please inform us so sources can be credited.
Commentary From The Cedar Lounge Revolution
10th November 2008
Here is a document that should be of some interest.
You can find copies of Marxism Today over the years available here . However they currently run from 1978 onwards. This edition is a bit earlier and significantly different in tone. As ever the point of the Irish Left Archive is to not just give you the text but also a sense of the physical presence of these documents… The materiality of it, as it were.
Anyhow, Marxism Today, venerable journal of the Communist Party of Great Britain and later cheerleader of the Euro-communists devoted this edition to the issue of Ireland. And this it does in a series of interesting articles.
Some of the names will be familiar. This shouldn't be surprising since they are culled from the Communist Party of Ireland. Here is Michael O'Riordan, writing on "The White Paper on Northern Ireland". There is Betty Sinclair writing about Trade Unions in Ireland.
Others are less so.
The concerns are those of the further left during this period - and after. The North, The Common Market and so on. And the CRA is prominently featured. Notable is the absence of any British voices.
It's a nice production with a more than faintly academic aspect to it. Scientific socialism indeed. Hence the journal-like pagination starting at page 161. The Starry Plough on the cover is a nice touch, and one that links it directly to the iconography of the CPI. And for those of us familiar with more orthodox forms of communist organisation the advertising at the back of the journal will bring back memories.
Due to its size I've split it into two files, both 5mbs each which I'll post over the next two weeks. I'll also post the full file next week.
More from Marxism Today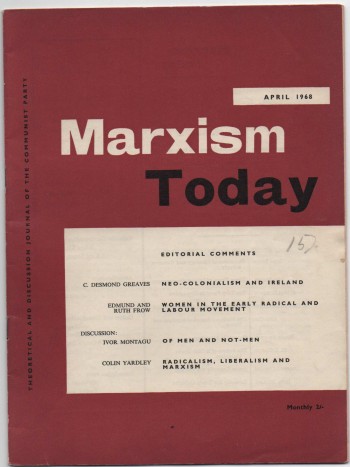 ---