Marxism Today, Vol. 12, No. 4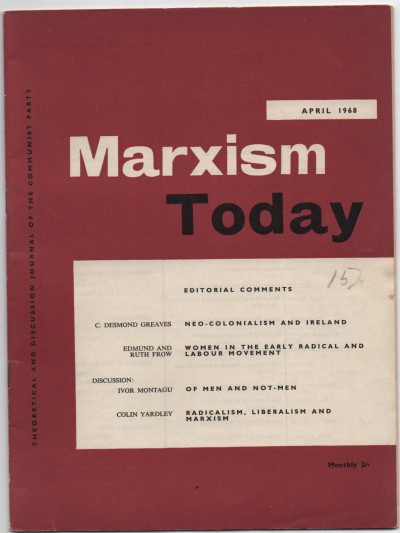 Please note:  The Irish Left Archive is provided as a non-commercial historical resource, open to all, and has reproduced this document as an accessible digital reference. Copyright remains with its original authors. If used on other sites, we would appreciate a link back and reference to The Irish Left Archive, in addition to the original creators. For re-publication, commercial, or other uses, please contact the original owners. If documents provided to The Irish Left Archive have been created for or added to other online archives, please inform us so sources can be credited.
Commentary From The Cedar Lounge Revolution
16th July 2018
Many thanks to the person who scanned and forwarded this to the Archive.
Of most interest is an article on Neo-Colonialism and Ireland by C. Desmond Greaves which engages with a variety of issues relating to Ireland.
It concludes that:
For many years neo-colonialism in ireland as elsewhere was able to divert attention from its activities by flaounging the Communist bogy. Partly as result of international developments, but also partly because its increased blatancy has opened the eyes of many formerly ucmomprehending sections fothe preopl, all has now changed. A national united front, including the communists (Irish Workers Party in the twenty-six counties, Communist Party in the six), is being forged in the course of vigorous struggles on such issues as evictions, land consolidations, co-operative farming, Anglo-Irish Trade Relations, entry into the EEC, as well as such international issues as the Vietnam ar, and apartheid in South Africa. Not for a generation has the Irish movement been so vigorous and united.

In 1967 both the Irish Labour Party and the Sinn Féin party introduced socialism into their programmes. It is a sign of the times.
There is also mention of the June 1968 issue of Marxism Today "the month of the centenary of Connolly's birth, will devote a large part of its space to his work and writing".
More from Marxism Today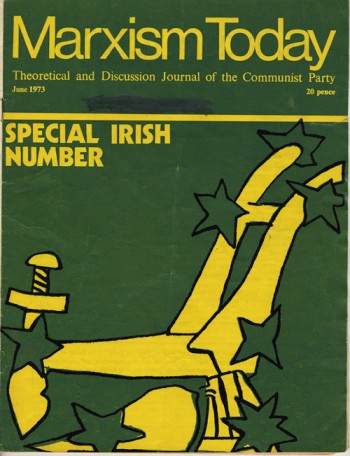 ---