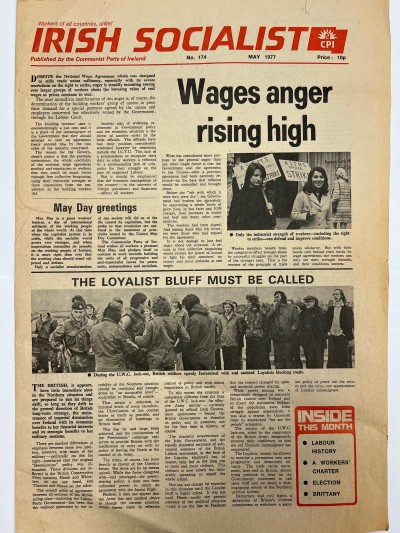 Please note:  The Irish Left Archive is provided as a non-commercial historical resource, open to all, and has reproduced this document as an accessible digital reference. Copyright remains with its original authors. If used on other sites, we would appreciate a link back and reference to The Irish Left Archive, in addition to the original creators. For re-publication, commercial, or other uses, please contact the original owners. If documents provided to The Irish Left Archive have been created for or added to other online archives, please inform us so sources can be credited.
Commentary From The Cedar Lounge Revolution
22nd November 2022
This is a welcome addition to the Irish Socialists already in the Archive. This edition from May 1977 has some interesting articles inside. One of the cover pieces looks at the National Wage Agreement, another argues 'The Loyalist Bluff Must Be Called'. Another discusses the Labour History Society and there are calls for a Workers Charter.
A piece by Betty Sinclair examines 'Life or Death? – end the nuclear threat'. Another looks at 'Racism and sexism in the U.S.A.'
Letters include one from various individuals including Peadar O'Donnell, Marie Comerford, Nora Connolly O'Brien and Tom Maguire, decrying the situation of Portlaoise Prison.
The editorial looks at this arguing that 'it is a matter of profound relief that the hunger strike of Port Laoise prisoners ended without a fatality although it is inevitable that some, at least, of the strikers will have suffered serious injury to their health, injury which may not become fully apparent for some years.
… there is no doubt that the action was provoked by sheer bloody mindedness and desperate conditions, with arbitrary and repeated strip-searches high on the objectionable list.
It continues:
It is also, however, a mark of how the Provisionals have sunk in public estimation- as a consequence of their anti-civilian bombing campaign and the mindlessness of their violence – that public sympathy was invariably muted and prefaced by strong disavowals of support for their organisation as such.

Is it too much for the Provisionals to take note of that genuine revulsion in their methods, which objectively have led to a strengthening rather than a weakening of the imperialist grip over Ireland?
Other pieces look at the 'Exploration scandal off coast of Ireland' and 'Our Economic Development'.
More from Irish Socialist
Irish Socialist in the archive
---