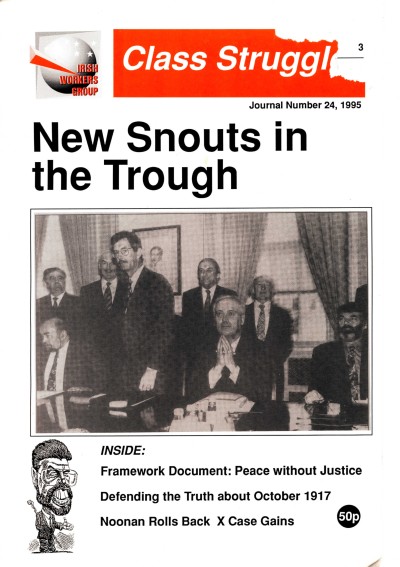 Please note:  The Irish Left Archive is provided as a non-commercial historical resource, open to all, and has reproduced this document as an accessible digital reference. Copyright remains with its original authors. If used on other sites, we would appreciate a link back and reference to The Irish Left Archive, in addition to the original creators. For re-publication, commercial, or other uses, please contact the original owners. If documents provided to The Irish Left Archive have been created for or added to other online archives, please inform us so sources can be credited.
Commentary From The Cedar Lounge Revolution
25th June 2018
Many thanks to the person who forwarded this to the Archive.
In this edition of Class Struggle, joining others in the Archive, there are a number of particularly interesting pieces. The first includes an overview of the then newly formed Fine Gael/Labour/Democratic Left coalition which makes the prescient point that 'inter-party coalitions are expected now to the normal rather than the exceptional form of bourgeois government'. It regards this as a 'new flexibility of the ruling class in arriving at solutions to Governmental crises without recourse to general elections'.
Perhaps also presciently it notes:
DL is likely to be the main loser in the coalition. More is expected of it than of the LP as it, unlike the LP, has been up till now primarily a left reformist party. Already DL has lost one councillor who opposed coalition De Rossa has been pilloried because of the huge disappointment the budget represented to the long term unemployed and old age pensioners.
It notes too that..
The party also faces defections from its left wing to the far left.
There's a striking critique of the Framework document as 'peace without justice' and an overview of Sinn Féin which suggests that 'in the end, what they failed to achieve in the last 25 years through the ballot and the bomb, they hope to achieve in the ned 25 years through demographic changes and economic cooperation'.
It also analyses how the Unionist Bloc 'fragments' noting that 'the Unionist ruling class does not speak with one voice on relations with Dublin or the benefits of economic cooperation within the EU'.
There are pieces on the X Case, and how Micahel Noonan had roles back what gains had been made since then, and why the IWG supports abortion on demand.
There's also a long piece which takes the Workers Solidarity Movement to task for, as the IWG sees it, misrepresenting the October Revolution on foot of a privately circulated WSM response to an earlier piece in Class Struggle 22.
One last aspect of interest is a review of a volume of essays on Interpreting Irish History: The debate on Historical Revisionism which offers some useful insights into the issue at that point in time.
More from Class Struggle
---