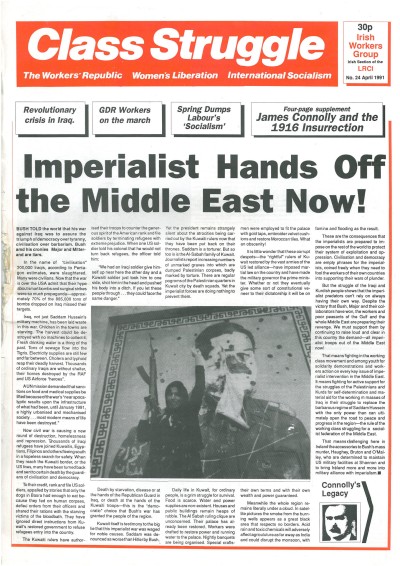 Please note:  The Irish Left Archive is provided as a non-commercial historical resource, open to all, and has reproduced this document as an accessible digital reference. Copyright remains with its original authors. If used on other sites, we would appreciate a link back and reference to The Irish Left Archive, in addition to the original creators. For re-publication, commercial, or other uses, please contact the original owners. If documents provided to The Irish Left Archive have been created for or added to other online archives, please inform us so sources can be credited.
Commentary From The Cedar Lounge Revolution
12th February 2018
Many thanks to the person who forwarded this to the Archive.
This edition of Class Struggle is of particular interest given it includes a four page supplement on James Connolly and the 1916 Insurrection (this has already been posted in the Archive and can be found here). As always with the IWG it is a well produced publication. Its lead story states 'Imperialist Hands Off the Middle East Now!' and argues against the continuation of US military facilities at Shannon. Other articles engage with 'Irish Workers and the Gulf War' and critiques the SWP led 'No to War in the Gulf Campaign'.
The editorial argues that 'Bombing Downing Street – No Way Forward' and states that its critique is rooted in 'the effectiveness or otherwise of the act in advancing the struggle against British imperialism and for socialism in Ireland.'
And it continues:
only a movement and tradition that remain wedded to he fantasy of 'pure' physical force from a few hundred guerrillas can go on believing that British imperialism can be bombed into surrender.
Note: This issue of Class Struggle also includes James Connolly and the 1916 Rising, a supplement which was previously added to and discussed in the archive.
More from Class Struggle
---