Abortion Ireland
A Report by Sinn Féin's Department of Women's Affairs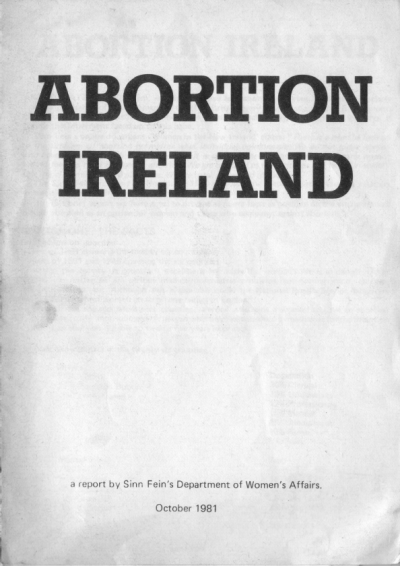 Please note:  The Irish Left Archive is provided as a non-commercial historical resource, open to all, and has reproduced this document as an accessible digital reference. Copyright remains with its original authors. If used on other sites, we would appreciate a link back and reference to The Irish Left Archive, in addition to the original creators. For re-publication, commercial, or other uses, please contact the original owners. If documents provided to The Irish Left Archive have been created for or added to other online archives, please inform us so sources can be credited.
Commentary From The Cedar Lounge Revolution
6th May 2013
This short document, issued in 1981, addresses Provisional Sinn Féin's approach to abortion at that time.
It starts by noting that:
An estimated 10,000 Irish women will have had abortions during 1981. It is precisely because thousands of Irish women do travel to Britain every year that a recent E.E.C. Report called for national legislation to remove the need for such lonely and desperate journey's.
It notes that SF's policy document 'Women in the New Ireland' states:
There is a need to face up to the problem of abortion no matter what individual opinions are. We do not judge women who have had abortion but recognise that it is an indictment of society that so many women should feel the need to avail of abortion. We are opposed to the attitudes and forces in society that impel women to have abortions. We are totally opposed to abortion.
It outlines the legal situation as regards abortion in both parts of the island and provides statistics as to the geographical and occupational data of those seeking abortion in Britain.
It also outlines broader family planning law and the provision of contraceptives in the Republic and the six counties.
The overview in Section Two: Organisations Pro/Anti-Abortion is of interest.
Of the Women's Right to Choose Group they note 'They see abortion as the fourth viable option to a pregnant woman after the choices of keeping the child, fostering it or having it adopted. Their commitment is to ensure that women's lives are controlled by women themselves. They believe that every child should be a wanted child and not a burden or a point of resentment.
Of the Society for the Protection of the Unborn Child (SPUC) they write:
Unfortunately they attract a great many reactionary types who would be extremely conservative on most social issues. Our research failed to find any of them involved with organisations who aid pregnant women nor have they protested at the limitations of the Health At whereby Medical Card holders - those least well off - have to pay for contraceptives.
It concludes:
The reasoning behind this report is to show that abortion is an issue in Ireland and will not end with a solitary sentence in a policy document. Any one of these statistics could be your wife, your sister or your daughter. We believe that those who are 'totally opposed' to abortion and those who see it as a tragedy and an indictment against society must work to improve conditions for and attitudes towards pregnant women.
More from Sinn Féin
---