An Camchéachta/The Starry Plough, Vol. 1, No. 2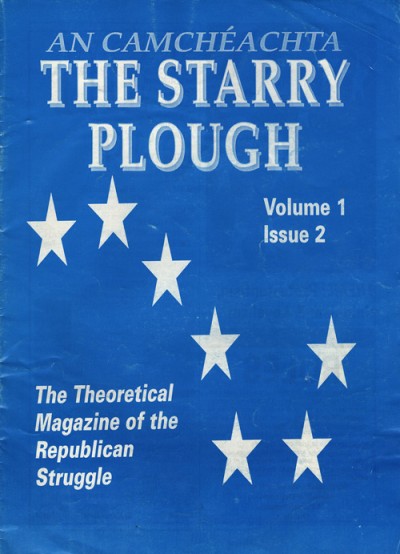 Please note:  The Irish Left Archive is provided as a non-commercial historical resource, open to all, and has reproduced this document as an accessible digital reference. Copyright remains with its original authors. If used on other sites, we would appreciate a link back and reference to The Irish Left Archive, in addition to the original creators. For re-publication, commercial, or other uses, please contact the original owners. If documents provided to The Irish Left Archive have been created for or added to other online archives, please inform us so sources can be credited.
Commentary From The Cedar Lounge Revolution
11th February 2008
This weeks addition to the Archive is "An Camhéachta - The Starry Plough", the Theoretical Magazine of the Republican Struggle issued by Sinn Féin in 1991. It's an interesting read. This edition has the theme of Protestantism, Unionism & Loyalism. There is an article by Mitchel McLaughlin with that very title, a "Reaction to Sinn Féin Policies in the Protestant Community" by "A Derry Protestant". Other pieces include a piece on "Partition - what it means for Irish Workers" and "Crisis in Women's Funding - Lesson's for the Women's Movement". Note the quotes from Alice Walker and others on the back cover.
There's an interesting interview with Larry O'Toole who was regarded as having some chance in the 2007 Election in Dublin North East. I hadn't realised he'd joined SF in 1984 - relatively recent. But perhaps his profile was typical of a shift in that party as the decade lengthened, having a background in community work and the unions. Certainly the language he uses in the interview speaks of a more clearly political direction.
The mention of Section 31 roots this in a different world.
The article on Partition is fascinating with a view of social reform and a fairly strong critique of the role of the Catholic Church that seems to be distinctly different to that seen in previous incarnations of Sinn Féin. Whether the idealistic view of a United Ireland propounded here is functionally realisable is almost admitted by the author when he states that 'it is true a united Ireland would not necessarily do things differently but it is impossible to envisage any effective challenge to the present right-wing establishments, North and South, as long as partition persists and the working class remains divided'.
A "Derry Protestants" piece admits a slightly different truth. S/he notes that there 'are severe limitations on Sinn Féin's ability to influence the perception of their policies and strategies by Protestants'. Indeed. One might also point to the final sentence where s/he writes 'What Protestants need is for their views to be taken seriously and incorporated in any solution. Is the Republican Movement willing to do this?'
It's an interesting thought that the pieces seem to devolve Unionist identity to Protestantism (the terms are mentioned interchangeably in McLaughlins article) although they mention Loyalism and Unionism. It's hard really to know what to make of that. Is it a reflection of a communalist reality or merely a pernicious a reductionism? That said McLaughlin is also highly critical of the anti-Protestant tradition within Republicanism but he goes on to make some fascinating statements. For example "The republican quarrel is with the British state in Ireland and the truth is that we cannot and should not ever try to coerce the Protestant people into a united Ireland". Okay. That makes good sense. He continues, 'We must convince them of the rightness of our cause and of the benefits accruing to them from advocacy of our cause'. That too makes good sense. It's hard to read that and not feel that ground work was being laid for future events. Hey, hold on, why am I doing the reading for you all?
Overall? To my eyes it seems weak in terms of clear ideological underpinnings - indeed, and I know some won't like this, perhaps the closest comparison might be the Democratic Left magazine Times Change. I mean that as no insult to either - or the (ex) members of either party - simply that the 'socialism' of this document is vague (much as DL seemed to cast around for a clear ideological position). But, it does at least appear to represent an effort to engage with some of the fundamental issues. How successfully I will leave to others to determine.
Please note file size is 9.3 mbs. If this is a significant problem for downloading just tell me and I'll see what I can do…
More from Sinn Féin
---