Éire Nua
The Social and Economic Programme of Sinn Féin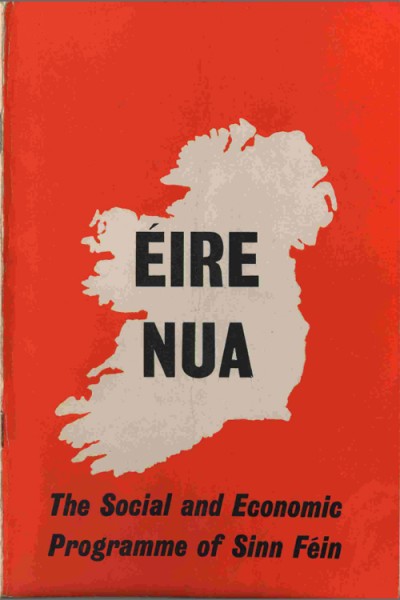 Please note:  The Irish Left Archive is provided as a non-commercial historical resource, open to all, and has reproduced this document as an accessible digital reference. Copyright remains with its original authors. If used on other sites, we would appreciate a link back and reference to The Irish Left Archive, in addition to the original creators. For re-publication, commercial, or other uses, please contact the original owners. If documents provided to The Irish Left Archive have been created for or added to other online archives, please inform us so sources can be credited.
Commentary From The Cedar Lounge Revolution
9th February 2009
Éire Nua is a fascinating document that was of pivotal significance  as a touchstone of of Provisional Sinn Féin (apologies to those who dislike the usage of the term "Provisional", but in this case its difficult for those who are searching on the internet to distinguish correctly between the different organisations during the 1970s. This was their path away from the Marxism of the Official Sinn Féin made manifest. And this is clearly laid out, even in the subheading… The Social and Economic Programme of Sinn Féin.
The overall appearance of the document is of a sophisticated pamphlet, very much of its time. Simple but effective drawings inside frame chapter headings. The cover is a simple orange. There is no hint of green.
It's a crisp read at a mere 56 printed pages, and at this remove surprisingly uncontentious. Not that it isn't aspirational, but it does depend upon a fairly unlikely set of circumstances coming into play for Sinn Féin to achieve these goals.
That said there is a strong emphasis on "Christian' values throughout, from the Réamhrá which suggests that 'amongst our objectives are the establishment of "a reign of social justice based on Christian principles by a just distribution and effective control of the nation's wealth and resources" and the institution of "a system of government suited to the particular needs of the people".
That this leads to - at this remove - some intriguing contradictions, not least the pre-eminence of 'the State' across a range of areas which perhaps points to the necessity to balance competing strands within what in truth was a fairly broad movement.
Indeed note point 7 in the Réamhrá which proposes that:
Private enterprise will still have a role to play in the economy but it will be a much smaller role than it has today. It will have no place in key industries and State incentives will favour co-operative projects as the most socially desirable. No non-national shall be allowed to have a controlling interest in an Irish industry.
That last sentence is somewhat tautological in the context of those preceding it.
But outright statism is avoided by recourse to 'the main instrument of economic development' which 'will be co-operative enterprises in production, distribution and exchange'. And these are positioned within an explicitly Irish tradition… 'These will be based on the Comhar na gComharsan philosophy which is fonded on the right of worker-ownership and is native Irish as well as being co-operative or distributist in character. Each individual worker will own an economic unit of the means of production in the form of farm, workshop, business or share in a factory or other co-operative'.
And this blending of radicalism with traditionalism continues throughout (although worth noting how reference to 'the means of production' informs the analysis).
In some respects the most interesting feature of the approach outlined here is the confident assertion that Ireland can avoid repeating the 'mistakes' of other nations. This is seen in reference to transport and other areas.
Consider the section on Education which places considerable emphasis on the restoration of Irish (and the idea of 'ensuring the development and equipment of all the moral, intellectual an physical powers of children so that they will become God fearing and responsible citizens of a free independent nation'), but intriguingly although inter-denominationalism is promoted there is no sense that the structural ownership of schools would be altered.
And a further fascinating point, in the section on Trade we are told:
Sinn Féin would do as Sweden, Switzerland, Finland, Austria, Iceland, Yugoslavia and many other European counties (sic) have done; seek Associate Membership or a trade agreement with the EEC while diversifying trade as much as possible… Should Ireland be forced into the EEC on England's heels Sinn Féin will resist and oppose Brussels domination just as the Irish people have resisted British domination for centuries.
A de facto National Health Service is proposed, albeit with 'nominal charges.. For prescriptions, for those who can afford to pay them'. Note the point made… 'the various features of other national health systems will be studied and there will be consultation with the medical profession at all stages'.
Nor is the former enemy within ignored… In the Réamhrá mention is made of the 'past few years… Devoted to preparing this Social and Economic Programme…. Some of those who were involved in an attempt to take over the Republican Movement had it suppressed, however, in favour of a more extreme draft outline which was never published. During the past 12 months the programme has been revised, updated and prepared for publication'.
But it is Appendix which was to prove entirely contentious in future years. This laid out "The Structure" of a federal state in Ireland and strong Provincial Governments in Uladh, Laighean, Chonnacht and na Mumhan.
Or as it states:
The establishment of Dáil Uladh would be the first step towards the creation of this new government structure for the whole island. By thus creating a Provincial Parliament for the nine counties of Ulster within a New ireland, the partition system would be disestablished and the problem of the border removed. Dáil Uladh would be representative of Catholic and Protestant, Orange and green, Left and Right. It would be an Ulster Parliament for the Ulster people. The Unionist-oriented people of Ulster would have a working majority within the Province and would therefore have considerable control over their own affairs. That power would be the surest guarantee of their civil and religious liberties.
That the obvious issue as to whether the three counties abandoned by partition would necessarily want to coalesce with their separated brethren has generally been overlooked in the opposite but equal dynamic of Republicans from the six counties who as time progressed saw this as merely instituting Unionist rule in the context of a 'New Ireland'. And for all that this was entirely symbolic and aspirational it was that sense that this plan simply did not address the realities of the situation that was - ironically - to provide much of the energy for those who would eventually replace the positions articulated in Éire Nua.
A useful contrast can be made with the text of the 1979  version, particularly the appearance of the term 'democratic socialist' in the 1979 version, as well as quotes from Connolly.
This text and these files are a resource for use freely by anyone who wants to for whatever purpose - that's the whole point of the Archive (well that and the discussions). But if you do happen to use them we'd really appreciate if you mentioned that you found them at the Left Archive…
More from Sinn Féin
---