The Spirit of Freedom, Vol. 1, No. 1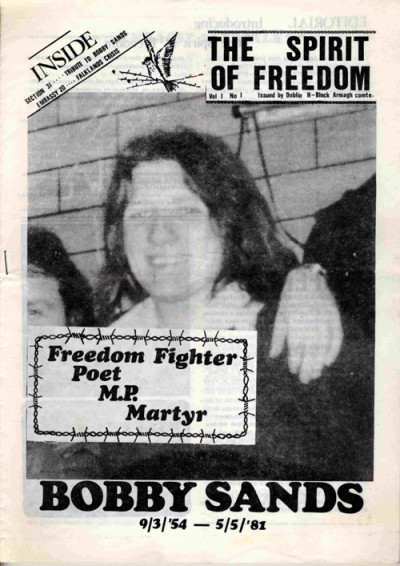 Please note:  The Irish Left Archive is provided as a non-commercial historical resource, open to all, and has reproduced this document as an accessible digital reference. Copyright remains with its original authors. If used on other sites, we would appreciate a link back and reference to The Irish Left Archive, in addition to the original creators. For re-publication, commercial, or other uses, please contact the original owners. If documents provided to The Irish Left Archive have been created for or added to other online archives, please inform us so sources can be credited.
Commentary From The Cedar Lounge Revolution
28th May 2012
Many thanks to Tommy Graham for donating this to the Archive.
This document was produced in 1981 by the Dublin H-Block Armagh Committee. This was linked directly to the Communist Party of Ireland (Marxist-Leninist).
As the editorial notes:
This newsheet is written and produced by Dublin Activists in the H-Block/Armagh movement. Activists are encouraged to submit articles, items of news, cartoons etc. Comment and criticism from the public are also welcomed. The H-Block/Armagh Committee is continuing its work because the five demands have not been granted in full and prisoners are still being subjected to punishments as a result of the continuing protest in the H-Blocks. Without public support group our political prisoners isolated in their cells would be even more vulnerable. In messages smuggled out from Long Kesh they have stressed the need for continuing publicity for their case.
And:
The movement is also concerned with the defence of members, such as the Embassy 20 who have fallen foul of state laws and with highlighting the ever increasing repressive laws now operating north and south.
It concludes:
This paper forms part of the campaign and it is also an attempt to counterbalance the hostile and one-sided establishment media coverage of these issues.
The document also contains an overview of the situation of 20 people who 'appeared before the non-jury Special Criminal Court' out of charges arising from a demonstration outside the British Embassy. There's a tribute to Bobby Sands and an overview of the Broadcasting Act and Section 31. There's also an article on the Falklands conflict and information on a National Recall Conference of the Smash H-Block/Armagh Campaign which was held that year in Dublin.
More from Spirit of Freedom
Spirit of Freedom in the archive
---