Spirit of Freedom, August 3rd 1987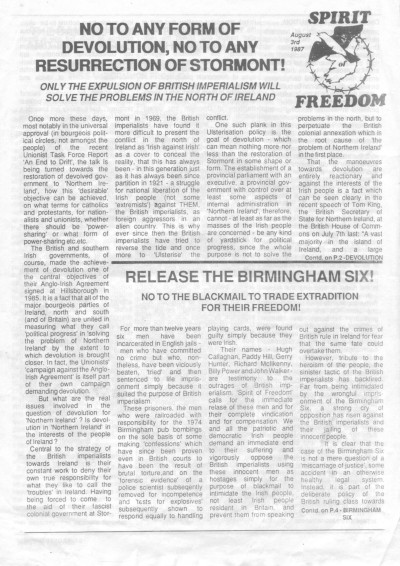 Please note:  The Irish Left Archive is provided as a non-commercial historical resource, open to all, and has reproduced this document as an accessible digital reference. Copyright remains with its original authors. If used on other sites, we would appreciate a link back and reference to The Irish Left Archive, in addition to the original creators. For re-publication, commercial, or other uses, please contact the original owners. If documents provided to The Irish Left Archive have been created for or added to other online archives, please inform us so sources can be credited.
Commentary From The Cedar Lounge Revolution
3rd November 2008
Once more these days, most notably in the universal approval (in bourgeois political circles, not amongst the people) of the recent Unionist Task Force Report 'An End to Drift', the talk is being turned towards the restoration of devolved government in 'Norther Ireland', how this 'desirable objective can be achieved, on what terms for catholics and protestants, for nationalists and unionists, whether there should be 'power-sharing' or what form of power-sharing etc. Etc.
"Bourgeois political circles…"? Yes, it's the CPI (M-L), once more.
Many thanks to PJ for scanning and forwarding this document. It's a short four page leaflet promoting their "Spirit of Freedom" campaign which was centred on the Birmingham Six. However as important a concern to them was the Anglo-Irish Agreement and these two themes make up the bulk of the material here, as well as a number of advertisements for CPI (M-L) publications. As PJ notes:
I dont know too much about the group except that they organised a number of public meetings in various cities under the 'Sprit of Fredom Committee' banner. Their attempt to march at RSF's Bodenstown (around the date of the publication) ended up with the marshals telling them to take down their banner and get lost!
More from Spirit of Freedom
Spirit of Freedom in the archive
---