Spirit of Freedom, November 14th 1987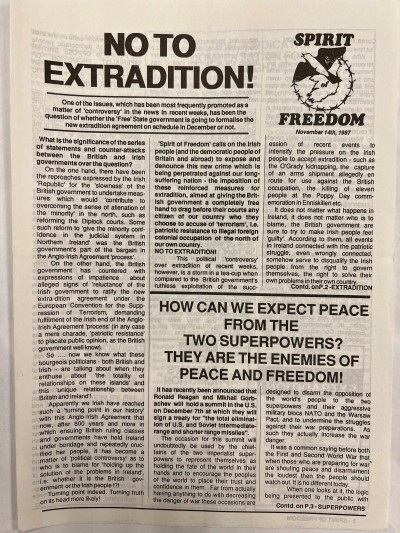 Please note:  The Irish Left Archive is provided as a non-commercial historical resource, open to all, and has reproduced this document as an accessible digital reference. Copyright remains with its original authors. If used on other sites, we would appreciate a link back and reference to The Irish Left Archive, in addition to the original creators. For re-publication, commercial, or other uses, please contact the original owners. If documents provided to The Irish Left Archive have been created for or added to other online archives, please inform us so sources can be credited.
Commentary From The Cedar Lounge Revolution
4th September 2023
Many thanks to the person who donated this to the Archive.
This edition of Spirit of Freedom, produced by the Communist Party of Ireland (Marxist-Leninist) has as its headline 'No To Extradition' – a topic focused on due to the then forthcoming possibility of a 'new extradition agreement' with the United Kingdom. The piece states:
Spirit of Freedom calls on the Irish people (and the democratic people of Britain and Abroad) to expose and denounce this new crime which is being perpetrated against our long-suffering nation – the imposition these reinforced measures for extradition, aimed at giving the British government a completely free hand to drag before their courts any citizen of our country who they choose to accuse of 'terrorism', ie. patriotic resistance to illegal foreign colonial occupation of the north of our own country.
Other pieces ask 'How can we expect peace from the two superpowers? They are the enemies of peace and freedom!'. This is in response to the news that Ronald Reagan and Mikhail Gorbachev were to hold a summit in the following month in order to sign a treaty seeking the elimination of U.S. and Soviet intermediate-range and shorter range missiles. The article argues that these meetings seek to 'disarm opposition to the two superpowers and their aggressive military blocs… as such they actually increase the war danger'.
Another piece demands 'Vindication and Compensation for the Birmingham Six!'. And another asks 'What is the sense in this claim that emigration is a democratic right?'. This last was on foot of Brian Lenihan of Fianna Fáil stating that it was a 'democratic choice' 'adventure' and 'excitement'.
More from Spirit of Freedom
Spirit of Freedom in the archive
---