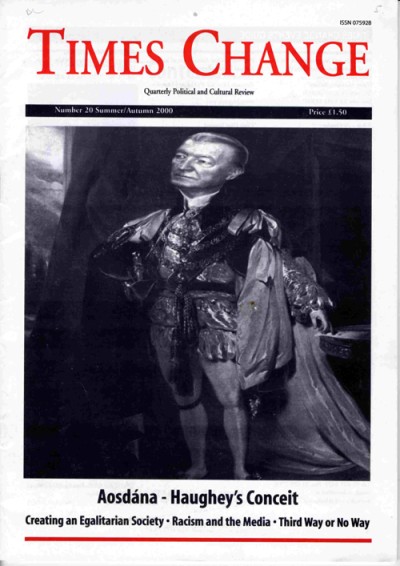 Please note:  The Irish Left Archive is provided as a non-commercial historical resource, open to all, and has reproduced this document as an accessible digital reference. Copyright remains with its original authors. If used on other sites, we would appreciate a link back and reference to The Irish Left Archive, in addition to the original creators. For re-publication, commercial, or other uses, please contact the original owners. If documents provided to The Irish Left Archive have been created for or added to other online archives, please inform us so sources can be credited.
Commentary From The Cedar Lounge Revolution
5th September 2011
This is an interesting document that is part of a sequence of Times Change quarterly publications initiated by Democratic Left much in the style of the Workers' Party Making Sense which had a very similar style to it. The banner heading has the subtitle 'Quarterly Political and Cultural Review'. This edition of Times Change was printed after the merger of Democratic Left and the Labour Party and therefore is of particular interest.
There's an oddly contemporary feel to the editorial which mentions a Tobin Tax quite favorably. Other articles include one on 'Creating an Egalitarian Society: Issues of (Re)Distribution, Recognition and Representation by Kathleen Lynch, director of the Equality Studies Centre at UCD, which argues in its conclusion that:
Given the evidence we have in recent years of systematic political corruption, collusion between elected representatives and capitalist interests, growing economic inequality and cultural resistance it is time to adopt a radical agenda. To have equality included as a denominated core norm of our constitution would be a good place to start.
Alexadra Klemm has a piece on media coverage of asylum seekers which points up the profoundly negative discourse then extant in the media on this issue.
Gerard O'Quigley argues that for many socialists while there is relief [that disaster has been averted for the social democratic project in electoral terms - in the early 2000s] this is 'mixed with a sense of resignation that the political project of social democracy is now little more than neo-liberalism with a human face.' He then examines the 'Third Way' in light of the analyses of Anthony Giddens. What is striking is how much at that point was positioned in relation to the triumph of the British Labour party some three or four years earlier.
There's a letter from Edinburgh by a communications manager from the SNP on the Scottish Parliament and an interesting account by Proinsias O Drisceoil of a 1954 Kilkenny debate on partition between Unionists and Republicans. There's also a long essay on Gunter Grass [who had been very close politically to the German SDP] and a cover page article on Aosdána. There's also an intriguing review on 'conventional nationalist history' and science.
If a general observation can be made it is that this is more markedly culturally oriented than previous editions and more clearly positioned within a broader social democratic referencing discourse. But it is also strikingly less political, which is not to say that there are no political elements, but that these are less prominent than before.
The Archive is unaware of any subsequent issues, but would be very grateful for any further information and perhaps some outline of the relationship to the Labour Party and whether that was similar or distinctively different to the pre-existing relationship to Democratic Left.
More from Times Change
---