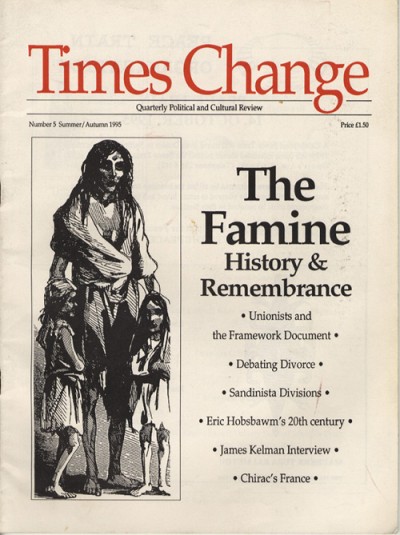 Please note:  The Irish Left Archive is provided as a non-commercial historical resource, open to all, and has reproduced this document as an accessible digital reference. Copyright remains with its original authors. If used on other sites, we would appreciate a link back and reference to The Irish Left Archive, in addition to the original creators. For re-publication, commercial, or other uses, please contact the original owners. If documents provided to The Irish Left Archive have been created for or added to other online archives, please inform us so sources can be credited.
Commentary From The Cedar Lounge Revolution
23rd March 2009
The quantity of Democratic Left material in the Archive is fairly limited. However, due to a donation some time ago of a series of "Times Change", the DL's political and cultural review (which I have yet to return - so an address would be handy!) which are now scanned in that is set to change.
This Summer/Autumn edition appears at a particularly interesting time not least since the IRA ceasefires had occurred fairly recently. And the approach of Democratic Left to this development is best characterised in an editorial under the heading of "The Art of compromise" which is profoundly negative of the outcome.
Reading it at this remove it is remarkable how pessimistic a view of the capacity of others to change as DL had was intrinsic to their analysis. So we read that:
…what is the Republican Movement prepared to do to move the peace process forward? Decommission arms? No. Stop punishment beatings? No. Release the bodies of the disappeared? No. Agree to reform of Articles 2 and 3? No. Agree to the principle of unionist consent? No.
A piece by Arthur Aughey on the response of Unionism to the developments is equally pessimistic in tone. Indeed he argues that:
The frameworks have proposed some half-way house between unionism and nationalism, thereby equating the fact of the Union with the aspiration to Irish unity (without a proper deal on Articles 2 and 3). That is what Dick Spring understands 'balance' to mean. For the reasons I have outline, such a balance is unacceptable to unionists and will not achieve widespread acceptability. There needs to be fresh thinking.
Again, an intriguing analysis in the context of what has happened since.
Central concerns of Democratic Left including a leftist internationalism are seen in pieces on Nicaragua and France. An emphasis on social liberalism is articulated in an article on divorce, and it is notable that James Kelman is interviewed in this issue. There is an interesting, and perhaps somewhat unexpected, short appraisal of Roy Foster's approach to the Famine in an article by Peter Connell which chastises historical revisionism in this context for 'blurring the Famine's impact…'. This is in addition to an article on the meaning of Famine commemoration by Proinsias O Drisceoil which makes some contentious assertions.
All told a useful insight into the party at that point in time.
This text and these files are a resource for use freely by anyone who wants to for whatever purpose - that's the whole point of the Archive (well that and the discussions). But if you do happen to use them we'd really appreciate if you mentioned that you found them at the Irish Left Online Document Archive…
More from Times Change
---