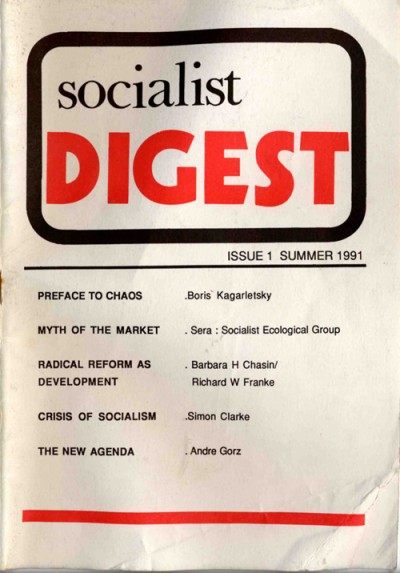 Please note:  The Irish Left Archive is provided as a non-commercial historical resource, open to all, and has reproduced this document as an accessible digital reference. Copyright remains with its original authors. If used on other sites, we would appreciate a link back and reference to The Irish Left Archive, in addition to the original creators. For re-publication, commercial, or other uses, please contact the original owners. If documents provided to The Irish Left Archive have been created for or added to other online archives, please inform us so sources can be credited.
Commentary From The Cedar Lounge Revolution
25th April 2011
This is a pamphlet which was edited by a range of members of the Worker's Party albeit interestingly that is not indicated upon it, and printed by party press Repsol . Those involved were: John O'Neill, Aidan Hughes, Fearghal Ross, Orla O'Connor, Joe Ruddock, Colm Breathnach.
It's intention is detailed on the back cover:
Socialist Digest is a review containing articles from various left journals which are largely inaccessable to Irish readers. The intention of the compilers is to stimulate debate and discussion on the left in Ireland. The Digest is a cooperative, non profit-making venture which is published on a quarterly basis: Any suggestions with regard to the inclusion of specific articles are welcome.
Notable is the sense that this was very slightly apart from the Workers' Party.
The essays and articles collected within are introduced on the Contents page by short descriptions. For example:
In "Preface to Chaos" Boris Kagerletsky, a former dissident and now a leadership figure n the new Russian Socialist Party outlines the crisis situation that the USSR finds itself in and attempts to interpret the intellectual background to the present chaos.
Or…
In "Crisis of Socialism or Crisis of the State?" Simon Clarke argues that the left must break decisively with the statism of the fallen Eastern European regimes.
And it concludes with…
Finally, in a thought-provoking article, Andre Gorz outlines what he sees as the main elements of a New Agenda for the Socialist movement in the advanced capitalist world-centred around the limitation of economic rationality.
Given that the first incarnation of the formation that split from the Workers' Party barely a twelve months later used the name 'New Agenda' one wonders is there a conceptual linkage.
It is telling that Gorz is included, as is a contribution by the 'Socialist Ecological' group Sera, a clear opening to red green philosophy.
And added to that it is clear that this is positioned directly on anti-market, anti-statist and anti-orthodox Marxist ideological terrain, though one that is to the left of social democracy, and can be seen as an attempt to delineate that terrain for the Workers' Party during this period.
More from The Workers' Party
The Workers' Party in the archive
---