The United Irishman, Vol. 23, No. 11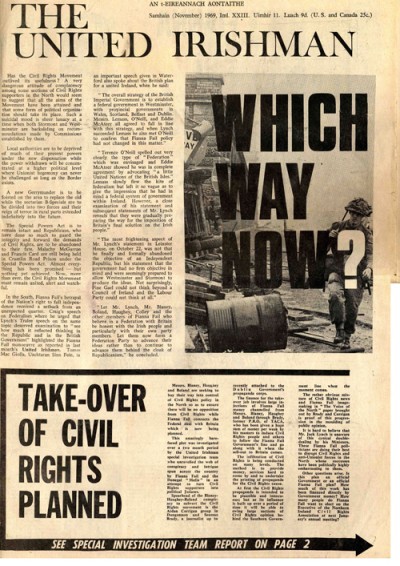 Please note:  The Irish Left Archive is provided as a non-commercial historical resource, open to all, and has reproduced this document as an accessible digital reference. Copyright remains with its original authors. If used on other sites, we would appreciate a link back and reference to The Irish Left Archive, in addition to the original creators. For re-publication, commercial, or other uses, please contact the original owners. If documents provided to The Irish Left Archive have been created for or added to other online archives, please inform us so sources can be credited.
Commentary From The Cedar Lounge Revolution
23rd November 2009
This document charts the developing crisis in the North, and in particular points to the issue of Fianna Fáil intervention both in terms of what it characterises as a 'takeover of Civil Rights' and mention is given to the 'Voice of the North', a most intriguing publication. It is most exercised by what it refers to in the first paragraph.
Has the Civil Rights Movement outlived its usefulness? A very dangerous attitude of complacency among some sections of the Civil Rights supporters in the North would seem to suggest that all the aims of the Movement have been attained and that some form of political organisation should take its place. Such a suicidal mood is sheer lunacy at a time when both Stormont and Westminster are backsliding on recommendations made by Commissions established by them.
And there is a sense that this 'political organisation' would be the outcome of:
Messrs Blaney, Haughey and Boland.. Seeking to buy their way into control of Civil Rights policy in teh North so as to ensure there will be no opposition from Civil Rights while FF concocts the Federal deal with Britain which is now being planned.
Leathanach Do is devoted to this and it makes for instructive reading.
There's a lot more in here, including an outline of 'the New Gerrymander' of the North, 'Home Rule is Rome Rule'. There's a nod to traditional Republicanism and considerable coverage of Economic Resistance and the North. There are some insights into the sentiment in favour of Republicanism, including a piece on how Kerry Council recognises the IRA. One notable aspect of it is that there is almost no mention at all of non-Irish political related matters.
One other point. The level of presentation is remarkable, look at the use of photography and montage inside. It really is the equal of any of the other publications during this period.
More from The United Irishman
The United Irishman in the archive
---