The United Irishman, Vol. 23, No. 6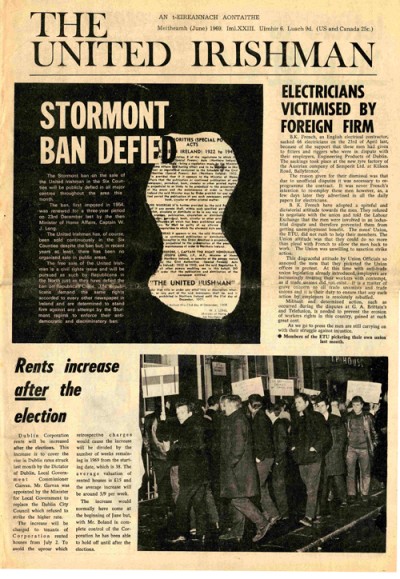 Please note:  The Irish Left Archive is provided as a non-commercial historical resource, open to all, and has reproduced this document as an accessible digital reference. Copyright remains with its original authors. If used on other sites, we would appreciate a link back and reference to The Irish Left Archive, in addition to the original creators. For re-publication, commercial, or other uses, please contact the original owners. If documents provided to The Irish Left Archive have been created for or added to other online archives, please inform us so sources can be credited.
Commentary From The Cedar Lounge Revolution
8th June 2009
Another document that gives a useful insight into the mindset of Republicanism, at least at a rhetorical level, during 1969. This copy of the United Irishman from June 1969 still gives little indication of the rupture that would occur within Republicanism towards the end of that year. Indeed the front cover seems oddly tame, with a piece on how a ban on the sale of the United Irishman in the Six Counties is being defied by Sinn Féin, mention of a dispute amongst electricians with an English firm and an increase in Dublin Corporation Rents. The emphasis on the latter issues perhaps speaks of the more campaigning side of Sinn Féin during this period. And it's followed by article on Fisheries protests and an odd piece on how Derry Unionists established an Housing Action Committee. A long piece on the Dublin Housing Action emphasises this campaigning bent.
There's also mention of how the IRA in Galway were claiming responsibility for property on a large estate in the county.
Add to that a piece on Palestine and one might well draw a certain picture.
On the other hand the situation in the North is not ignored. Northern Letter on page 4 details the changes in the Stormont Government and the impact of the attacks on Civil Rights marchers at Burntollet. And it there is a strong concentration on the issue of Civil Rights as a tactic.
Meanwhile one will also read about 'Republicanism, Marxism and Christianity', perhaps an attempt to ensure there was some cover for the left tilt amongst more traditional members.
All that said it is fascinating to read the editorial on the last page which is exercised almost entirely by the prospect of an election and with only a glancing comment on the North.
More copies of the United Irishman from this year to come…next month we see the July issue.
More from The United Irishman
The United Irishman in the archive
---