United Irishman, Vol. 33, No. 8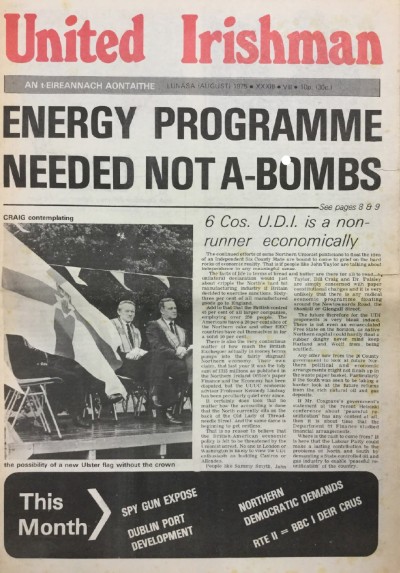 Please note:  The Irish Left Archive is provided as a non-commercial historical resource, open to all, and has reproduced this document as an accessible digital reference. Copyright remains with its original authors. If used on other sites, we would appreciate a link back and reference to The Irish Left Archive, in addition to the original creators. For re-publication, commercial, or other uses, please contact the original owners. If documents provided to The Irish Left Archive have been created for or added to other online archives, please inform us so sources can be credited.
Commentary From The Cedar Lounge Revolution
24th August 2015
Many thanks to the person who forwarded this to the Archive.
This edition of the United Irishman from Official Sinn Féin is one of a series of United Irishman and Starry Ploughs that date from the feud between the INLA and the OIRA in Spring/Summer 1975.
The cover article – Energy Programme needed not A-Bombs – references proposals to have a nuclear reactor in Wexford operational in 1980. The tone is deeply antagonistic to the proposal arguing that 'the plan threatens the livers of our people of this and future generations'. By way of contrast a piece on the back page examines, quite favourably, proposals for an oil refinery sister in Dublin Bay. It argues that:
There is only one way in which Ireland can solve the joint problems of unemployment and emigration. this is by developing her international trade. Over 99 per cent of this trade by volume is carried by sea and more than 60 percent of the general cargo, the most valuable constituent, passes through the Port of Dublin.
Other notable aspects of this edition are a number of stories about activities and statements from various sections of the OIRA, including one on how "D" Company of Belfast Command prevented the kidnapping of a former internee and discovered a haul of undercover British Army weapons. The editorial suggests that 'Recent killings, claims and counter claims are evince that he enemies of the working class are preparing for their kind of 'solution'.
There's a piece on Mother Jones, another on Portugal and a two page spread on the need for 'Human rights must be fully guaranteed' along with a four point outline of what OSF demands in that regard.
There is only oblique mention of the OIRA/IRSP(PLA) conflict of earlier in the Summer. This is most notable in the Sinn Féin Platform column which carries the text of a speech by Tomas Mac Giolla addressing a conference on Sectarianism in Derry. This includes the statement that:
We know that a purely military campaign would destroy the unity which the Civil Rights struggle was developing, that it would strengthen bigotry and sectarianism and eventually solidify once again the Orange Unionist structure. Our purpose was to eliminate sectarianism completely.
More from The United Irishman
The United Irishman in the archive
---