Unfree Citizen, Vol. 4, No. 29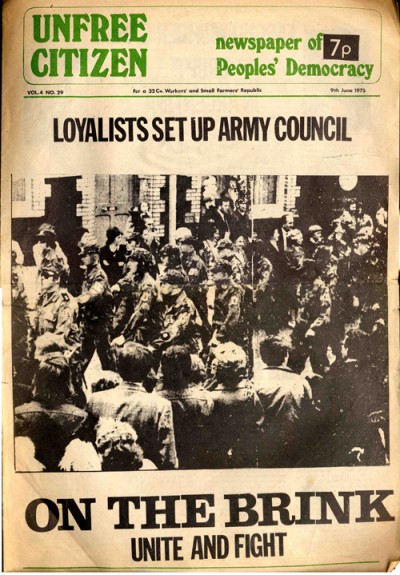 Please note:  The Irish Left Archive is provided as a non-commercial historical resource, open to all, and has reproduced this document as an accessible digital reference. Copyright remains with its original authors. If used on other sites, we would appreciate a link back and reference to The Irish Left Archive, in addition to the original creators. For re-publication, commercial, or other uses, please contact the original owners. If documents provided to The Irish Left Archive have been created for or added to other online archives, please inform us so sources can be credited.
Commentary From The Cedar Lounge Revolution
5th October 2009
Although there is People's Democracy material in the Archive this document, donated by Mark P and the Socialist Party - for which many thanks, provides a useful snapshot of their less theoretical promotion from the mid-1970s. Unfree Citizen is printed in much the same format as the United Irishman, an off-A3 size. Note the use of the colour green and the subheading, For a 32 Co. Workers' and Small Farmers' Republic. The use of a full size photograph taking up the cover depicting Loyalist paramilitary groups marching, under the headline Loyalists Set Up Army Council, and with a further footer "On the Brink - Unite and Fight" is a striking political and visual configuration.
The accompanying article is on page 3 and details in slightly less extravagant language political moves within Loyalism which it argues means that 'we are on the brink of a Loyalist takeover in the North which would put Craig and Paisley in power, give the assassins of the UDA etc. A freehand, and institute the most savage system of repression since the 1920s'
One clear sense from the newspaper is that of an activist party. So there are short articles about PD members being arrested and charged due to their involvement in campaigns and, in one instance, found carrying a list of MRF and British Army surveillance unit cars. This reinforces a sense of a party that is strongly at odds with the state.
There's also an overview of the results of the Northern Convention and how this affects the balance of power amongst Loyalism and Unionism in the North. The footnote to that article is of particular note where it takes to task Sinn Féin and An Phoblacht…arguing 'the idea of an alliance between Republicans and Orange extremists dies hard'. There's also an interesting piece on the last page about a miscommunication on the subject of the EEC referendum within the party.
International affairs are also covered with reports on Argentina which links the situation with death squads to the UVF, UDA and UFF and the situation in Vietnam, which at that point in time had ended in victory for the NLF. All told a professional publication.
More from People's Democracy
People's Democracy in the archive
---