International Women's Day: Unity Against Oppression and Imperialism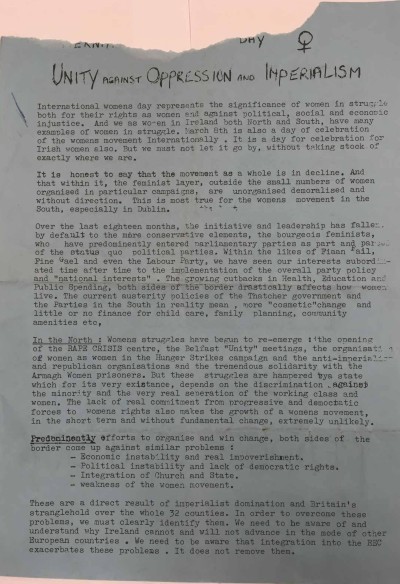 Please note:  The Irish Left Archive is provided as a non-commercial historical resource, open to all, and has reproduced this document as an accessible digital reference. Copyright remains with its original authors. If used on other sites, we would appreciate a link back and reference to The Irish Left Archive, in addition to the original creators. For re-publication, commercial, or other uses, please contact the original owners. If documents provided to The Irish Left Archive have been created for or added to other online archives, please inform us so sources can be credited.
Commentary From The Cedar Lounge Revolution
8th March 2021
Many thanks to the person who forwarded this to the Archive.
This timely document was issued on International Women's Day in the early 1980s by People's Democracy. It notes that:
International Women's Day represents the significance of women in struggle both for their rights as women and against politics, social and economic injustice. And we as women in Ireland both North and South, have many examples of women in struggle. March 8th is also a day of celebration of the women's Movement Internationally.
It argues that:
It is honest to say that the movement as a whole is in decline. And that within it, the feminist layer, outside the small numbers of women organised in particular campaigns are unorganised demoralised and without direction. This is most true for the women's movement in the South, especially in Dublin.
It proposes that women work together on a programme. And that the following areas be discussed.
National Unity within the women's movement.

Austerity policies North and South and how they affect women.

The need for Seperation of Churches and States.

Democratic Rights: Divorce, Contraception, Abortion

Equality in the workforce – the right to work, equal pay. Unemployment and women.
More from People's Democracy
People's Democracy in the archive
---