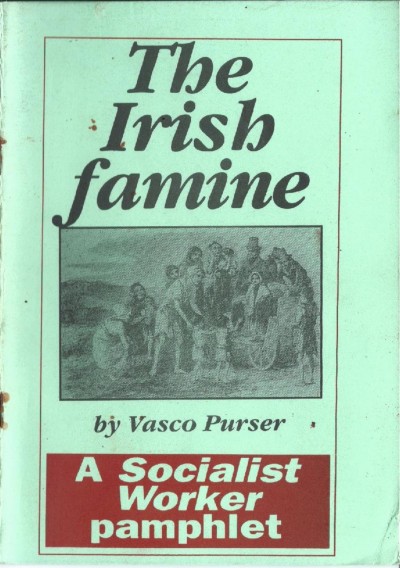 Please note:  The Irish Left Archive is provided as a non-commercial historical resource, open to all, and has reproduced this document as an accessible digital reference. Copyright remains with its original authors. If used on other sites, we would appreciate a link back and reference to The Irish Left Archive, in addition to the original creators. For re-publication, commercial, or other uses, please contact the original owners. If documents provided to The Irish Left Archive have been created for or added to other online archives, please inform us so sources can be credited.
Commentary From The Cedar Lounge Revolution
26th August 2019
Many thanks to the person who forwarded this to the Archive.
This is a 28 page pamphlet written by Vasco Purser and published in the mid 1990s. It is organised into sections such as 'Ireland Before the Famine', 'Free Market Capitalism', 'The Famine', 'Relief Measures', 'Emigration' and 'Resistance and Betrayal'.
The Introduction suggests that:
Some commentators, such as Kevin Myers of the Irish Times, claim the Irish famine was simply a natural disaster. Yet the whole of Ireland was then a part of the UK, the centre of the worlds wealthiest empire. This pamphlet aims to give a brief view of what happened, and to look at the response of both Government and Irish politicians to the suffering. Was it really a natural disaster caused by the failure of the potato crop? Or was the famine the result of the free market and the drive for profit?
The Conclusion argues that:
The main lesson to draw from the famine is not a nationalist one, but a socialist one. The right of oppressed nations to self-rule is a simple principle which all socialist support. But on its own independence does not challenge market values.
More from Socialist Workers' Party
Socialist Workers' Party in the archive
---