Refugees Are Welcome Here: The Case Against Immigration Controls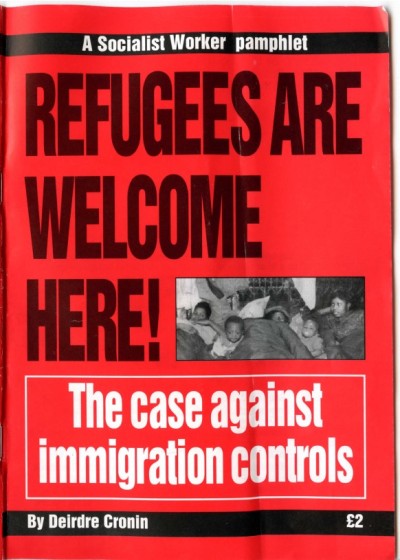 Please note:  The Irish Left Archive is provided as a non-commercial historical resource, open to all, and has reproduced this document as an accessible digital reference. Copyright remains with its original authors. If used on other sites, we would appreciate a link back and reference to The Irish Left Archive, in addition to the original creators. For re-publication, commercial, or other uses, please contact the original owners. If documents provided to The Irish Left Archive have been created for or added to other online archives, please inform us so sources can be credited.
Commentary From The Cedar Lounge Revolution
1st February 2016
Many thanks to IEL  for donating this publication to the Archive.
This fourteen page document published by the SWP in the late 1990s and written by Deirdre Cronin makes the case that:
From the end of May 1997, in the middle of the general election campaign, immigrants suddenly became the target of politicians and the media. Newspapers had banner headlines shouting that 'a new army of poor swamp the country'. Talk of 'floods' of refugees arriving in Ireland has become common.
It argues that:
…these ideas are complete hypocrisy. The same right-wing politicians have never before concerned themselves over the length of housing lists or the PAYE burden.
It further argues that:
By playing the anti-immigrant card the politicians and the media have whipped up a racist atmosphere where attacks on black people can take place.
The document is divided into short sections which includes 'What the newspapers say', 'Three racist myths', 'Ireland's record on refugees' amongst others. It makes a case 'Against Immigration Controls' arguing that:
…there can never be 'acceptable' immigration controls as they are always inherently racist.
And it discusses the issue of racism itself, arguing that:
We see the fight against racism as part of the fight for socialism. If you agree then join us.
More from Socialist Workers' Party
Socialist Workers' Party in the archive
---