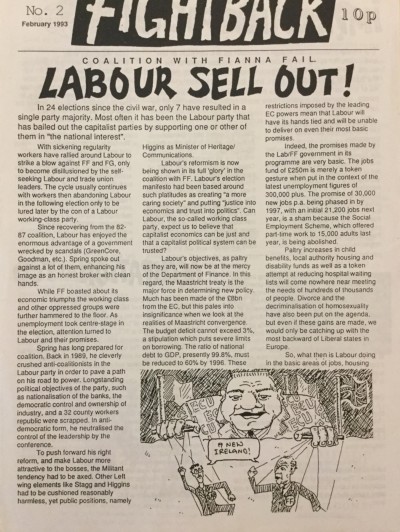 Please note:  The Irish Left Archive is provided as a non-commercial historical resource, open to all, and has reproduced this document as an accessible digital reference. Copyright remains with its original authors. If used on other sites, we would appreciate a link back and reference to The Irish Left Archive, in addition to the original creators. For re-publication, commercial, or other uses, please contact the original owners. If documents provided to The Irish Left Archive have been created for or added to other online archives, please inform us so sources can be credited.
Commentary From The Cedar Lounge Revolution
9th January 2017
This edition of FightBack joins other IWG documentation in the Archive. Many thanks to the person who forwarded it. From 1993 it is particularly interesting detailing as it does the Fianna Fáil/Labour Coalition.
It is scathing about that administration:
Labour's reformism is now being shown in its full 'glory' in the coalition with FF. Labour's election manifesto had been based around such platitudes as creating 'a more caring society' and putting 'justice into economics and trust into politics'. Can Labour, the so-called working class party, expect us to believe that capitalist economics can be just and that a capitalist political system can be trusted?
Other articles are of note, including one on the United Nations which dubs that organisation 'imperialist police'. There's also information on a student occupation at TCD.
Another piece worth considering is a sharp critique of the Socialist Workers Movement over the issue of abortion where Fightback accuses the former of blocking demands at RTC for free and legal abortion along with more conservative students 'on the grounds that this demand was too extreme and that the students weren't ready for it'.
There's also a long piece on 'a wave of Nazi killings and violence sweeping through Germany'.
More from Fightback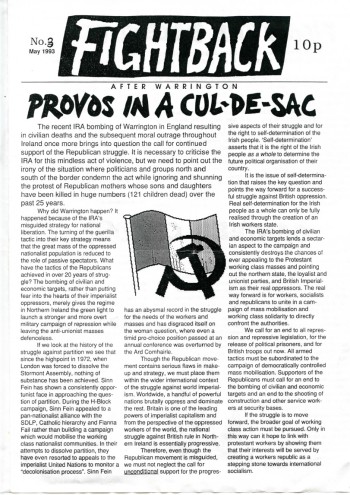 ---