The Maynooth Model
Building a new relationship between the Labour Party and the communities we live in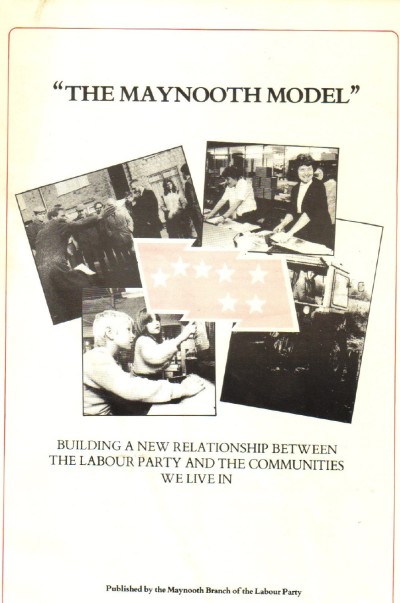 Please note:  The Irish Left Archive is provided as a non-commercial historical resource, open to all, and has reproduced this document as an accessible digital reference. Copyright remains with its original authors. If used on other sites, we would appreciate a link back and reference to The Irish Left Archive, in addition to the original creators. For re-publication, commercial, or other uses, please contact the original owners. If documents provided to The Irish Left Archive have been created for or added to other online archives, please inform us so sources can be credited.
Commentary From The Cedar Lounge Revolution
23rd February 2015
…in co-operation with trade unionists, ensured that if the Council cut off people's water for non-payment, they were re-connected within the day
…is but one interesting quote from the above document.
Many thanks to a regular reader for scanning and forwarding this remarkable document to the Archive. In eight pages it sets out a plan for engaging communities by the Labour Party. Published by the Maynooth Branch it takes lessons it believes are relevant from the experience of that branch and attempts to apply them to the broader Labour Party.
It is quite an elaborate production with cartoons (possibly sourced from Private Eye), photographs and images of the cover of documents issued by Maynooth Labour Party.
The document is divided into short sections, including; The Maynooth Branch, Beginning at the Beginning, Recruitment, Working in the Neighbourhoods and so on. It emphasises 'Community Participation', which includes involvement in Community Councils and Charity Walks. Interestingly it also highlights 'Community Participation III: The Anti-Charges Campaign':
When Kildare County Council established local service charges on water and refuse collection, this provided the Branch an opportunity to mobilise people around concrete political goals.

The Branch set up the 'Maynooth Residents Against the Charges' inviting all residents to an initial meeting to set up a Co-ordinating Committee.
And it notes that 'in co-operation with trade unionists, ensured that if the Council cut off people's water for non-payment, they were re-connected with the day'.
And that section has the following:
Whether it is long-term or ad hoc campaigns (e.g. anti-extradition referenda, a Land Tax campaign), that's where Labour should be.
It is interesting to reflect upon how approaches like this laid a broader sentiment in regard to charges on water and refuse collection.
The leaflet concludes by noting:
Let us be clear: our socialist politics is not about people consuming our press statements, leaflets and public meetings bloke a better brand of soap. It is not about offering people some far-off better future. It is about intervening today in their lives – whether in the community, the workplace, the schools and hospitals – struggling with them to resolve their everyday problems. It is about getting people to participate in organising against their own oppression and for their own freedom. In this way, people will join with us to create a socialist future, every step of the way.
More from Labour
---