Manifesto, Local Government Elections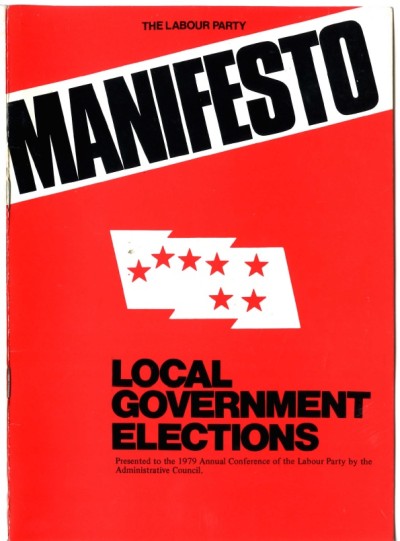 Please note:  The Irish Left Archive is provided as a non-commercial historical resource, open to all, and has reproduced this document as an accessible digital reference. Copyright remains with its original authors. If used on other sites, we would appreciate a link back and reference to The Irish Left Archive, in addition to the original creators. For re-publication, commercial, or other uses, please contact the original owners. If documents provided to The Irish Left Archive have been created for or added to other online archives, please inform us so sources can be credited.
Commentary From The Cedar Lounge Revolution
14th September 2015
Many thanks to Peter Mooney for donating this document to the Archive – one of many from his collection that is being posted here this year and next.
This fourteen page document was published by the Labour Party in advance of the 1979 Local Government Elections.
The introduction is of particular interest:
It notes that:
The policies of the present Fianna Fail Government have taken away the initiative and autonomy of Local Authorities and replaced local initiative with a centralised bureaucracy. FF's Dublin centred bureaucratic form of Local Government is stringing local communities throughout the country.
It argues that:
Labour is committed to genuine local democracy at community level. We recognise that local initiative of ordinary people can, if property harnessed, bring about the resolution of many of their local problems.
It suggests that:
Labour realises that the problems of local communities will only be solved finally by the application of a comprehensive set of socialist policies to all our social ills. Labour's socialist programme which has been developed in detail to cover the many aspects of communal life forms the basis of this short-term programme of policy action which is designed to enable Local Authorities throughout the country to being immediately the task of attacking social injustice and promoting social policy and harmony.
Various sections engage with Transportation, Planning, Housing, Physical Amenities, Youth Facilities, 1979-The year of the Child, Disabled People, Local Government Reform and the Conclusion.
In relation to funding the document argues;
The autonomy of local authorities has been further undermined by the abolition of domestic rates. Labour has always argued that rates were a bad form of taxation. Labour will abolish the rating system entirely and establish a new form of financing for Local Authorities. This will consist of a statutory per capita grant each year, plus a block development grant.
More from Labour
---