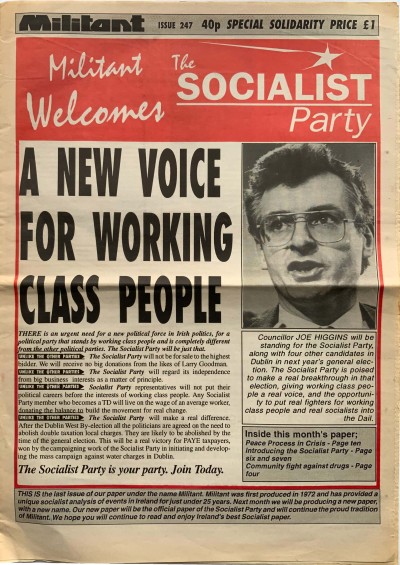 Please note:  The Irish Left Archive is provided as a non-commercial historical resource, open to all, and has reproduced this document as an accessible digital reference. Copyright remains with its original authors. If used on other sites, we would appreciate a link back and reference to The Irish Left Archive, in addition to the original creators. For re-publication, commercial, or other uses, please contact the original owners. If documents provided to The Irish Left Archive have been created for or added to other online archives, please inform us so sources can be credited.
Commentary From The Cedar Lounge Revolution
24th April 2023
This edition of Militant is particular importance being the last issued under that name. As noted on the front page:
This is the last issue of our paper under the name Militant. Militant was first produced in 1972 and has provided a unique socialist analysis of events in Ireland for just under 25 years. Next month we will be producing a new paper, with a new name. Our new paper will the the official paper of the Socialist Party and will continue the proud tradition of Militant. We hope you will continue to read and enjoy Ireland's best Socialist paper.
And the front page article argues that the SP will not be for sale to the highest bidder.
We will receive no big donations from the likes of Larry Goodman.
The SP will regard its independent from big business interest as a matter of principle.

There is an urgent need for a new political force in Irish politics, for a political party that stands by working class people and is complete different from the other political parties. The Socialist Party will be just that.

The SP representativeswill not put their political careers before the interests of working class people. Any SP member who becomes a TD will live on the wage of an average worker, donating the balance to build the movement for real change. 

The SP will make a real difference.
Other articles include one on how the Equality Bill opt out will increase discrimination, 'How the Netherlands has tried to cope with heroin addiction', 'Anti Charges Groups prepare for General Election' and there's a large centre-spread article on The Socialist Party, the voice of Working Class People.
Other pieces look at the Turkish state, the Intifada and reviews of Before the Dawn by Gerry Adams and Some Mothers Son.
More from Militant
---