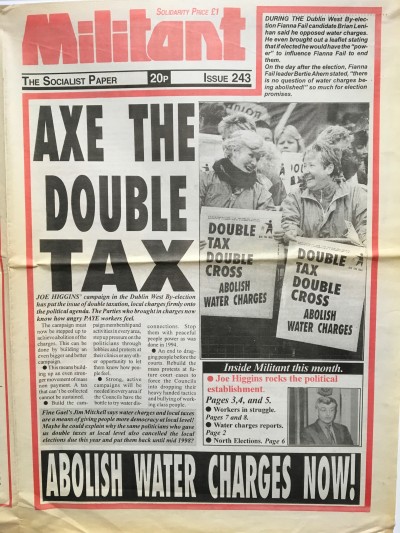 Please note:  The Irish Left Archive is provided as a non-commercial historical resource, open to all, and has reproduced this document as an accessible digital reference. Copyright remains with its original authors. If used on other sites, we would appreciate a link back and reference to The Irish Left Archive, in addition to the original creators. For re-publication, commercial, or other uses, please contact the original owners. If documents provided to The Irish Left Archive have been created for or added to other online archives, please inform us so sources can be credited.
Commentary From The Cedar Lounge Revolution
26th November 2018
Many thanks to Joan Collins for forwarding this to the Archive.
This edition of Militant from early 1996 is a useful addition to the Archive. Dating from the period where Militant was known as Militant Labour and prior to its adoption of the Socialist Party name it provides a sense of a pivotal point in the development of the organisation. Published after Joe Higgins narrow loss to Brian Lenihan Jnr. it shows a party energised by the contest.
Notable is the cover story which references:
Joe Higgin's campaign in the Dublin West by-election has put the issue of double taxation, local charges firmly onto the political agenda. The parties who bourthg in charges now know how angry PAYE workers feel.
And:
The campaign must now be stepped up to achieve abolition of the charges. This can be done by building an even bigger and better campaign.
And it calls for a movement of mass non payment. Another piece notes that Militant Labour is to 'stand in North Elections' and on foot of the Dublin West by-election there is a piece that argues it is 'time to build a new left'.
More from Militant
---