An Phoblacht Republican News, Iml. 16, Uimh. 27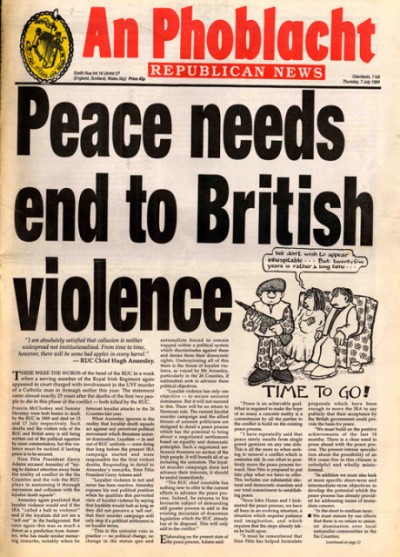 Please note:  The Irish Left Archive is provided as a non-commercial historical resource, open to all, and has reproduced this document as an accessible digital reference. Copyright remains with its original authors. If used on other sites, we would appreciate a link back and reference to The Irish Left Archive, in addition to the original creators. For re-publication, commercial, or other uses, please contact the original owners. If documents provided to The Irish Left Archive have been created for or added to other online archives, please inform us so sources can be credited.
Commentary From The Cedar Lounge Revolution
15th February 2010
Here's an edition of An Phoblacht from 7 July 1994. This dates from before the first IRA cessation.
With a front page article under the headline "Peace needs end to British violence" Gerry Adams is quoted as charging RUC Chief Constable Hugh Annesley of 'Trying to distract attention away from the reality of conflict in the Six Counties and the role the RUC plays in sustaining it through repression and collusion with the loyalist death squads'.
It continues that:
Annesley again predicted that loyalist violence would end if the IRA 'called a halt to violence' and if the loyalists did not see a 'sell out' in the background. But once again this was as much a threat as a prediction from Annesley, who has made similar menacing remarks, notably when he forecast loyalist attacks in the 26 counties.

What Annesley ignores is the reality that loyalist death squads act against any perceived political movement which threatens unionist domination. Loyalists – in and out of RUC uniform – were doing that long before the present IRA campaign started and were responsible for the first violent deaths. Responding in detail to Annesley's remarks, Sinn Féin President Gerry Adams said:

"Loyalist violence is not and never has been reactive. Annesley exposes his real political position when qualifies this perverted view of loyalist violence by saying that loyalists would halt as long as they did not perceive a 'sell out' that their murder campaign will only stop ifa political settlement is on loyalist terms.

'This is the unionist veto in practice – no political change, no change in the status quo and nationalists forced to remain trapped within a political system which discriminates against them and denies them their democratic rights. Underpinning all of this there is the threat of loyalist violence, as voiced by Mr. Annesley, particularly in the 26 counties if nationalists seek to advance these political objectives'.
Later he is quoted as saying:
Elaborating on the present state of the peace process, Adams said.

"Peace is an achievable goal. What is required to make the hope of so many a concrete reality is a commitment by all parties to the conflict is to build on the existing peace process. I have repeatedly said that peace rarely results from single grand gestures on any one side. That is all the more so when seeking to unravel a conflict which is centuries old. In our effort to positively move the peace process forward, Sinn Féin is prepared to put into play what we have to offer. This includes our substantial electoral and democratic mandate and our total commitment to establishing peace.
And…
We must build on the positive achievements of the last 18 months. There is a clear need to press ahead… the present intense speculation about the possibility of an IRA cease-fire in this climate is unhelpful and wholly misinformed.
As interesting is the following.
In addition we must also look at more specific short-term and intermediate-term objectives to develop the potential which the peace process has already provided for addressing issue of immediate concern.

In the short to medium term:

We must ensure by our efforts that there is no return to unionist domination over local nationalist communities in the Six Counties;
?Sinn Féin activists must be able to represent and speak for our communities in conditions of peace, uninterfered with by the British military or the RUC, free of personal harassment…
And there's more on that…
War News has a short report on 'Belfast RIR HQ blasted'. There are articles on prisoners in British jails looking for transfer to prisons in the Six Counties and this is reiterated in the editorial which notes that 'Republicans have given a cautious welcome to news that the British Home Office intends to shortly introduce a system of extended temporary transfer for Six-County prisoners currently serving time in English jails'. A page headed 'Workers Struggle' looks at the Irish Steel and TEAM disputes of that year.
The centre pages, and apologies for the poor scanning, examines "The British Helicopter Force in Ireland" including accounts of the "IRA engages Helicopter Gunships" and a "Fierce gun battle in South Armagh". Keep that in mind for a future edition of AP/RN to be posted on the archive over the Spring/Summer.
There's considerable coverage of a "Toward Peace in Ireland" conference in Ireland, including a photograph of Kevin McNamara, then British Labour Party spokesman on Northern Ireland – seeing that image, it's like a different world – and a piece detailing a speech by Mitchel McLaughlin arguing that 'Britain must remove obstacle to self-determination'.
And speaking of photographs, for an unfeasibly fresh-faced Peter Robinson, turn to leathanach 16 and an article on Unionist racism exposed.
More from An Phoblacht
---