Nuclear Power & Ireland
Research Section, Department of Economic Affairs, Sinn Féin The Workers' Party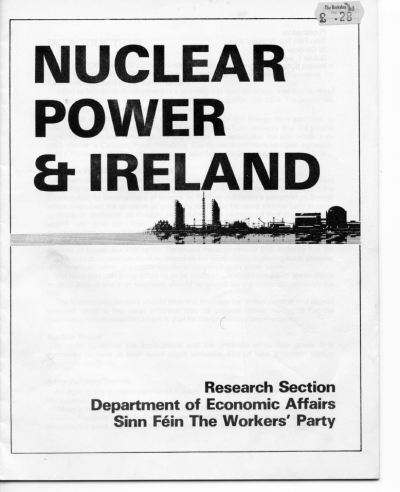 Please note:  The Irish Left Archive is provided as a non-commercial historical resource, open to all, and has reproduced this document as an accessible digital reference. Copyright remains with its original authors. If used on other sites, we would appreciate a link back and reference to The Irish Left Archive, in addition to the original creators. For re-publication, commercial, or other uses, please contact the original owners. If documents provided to The Irish Left Archive have been created for or added to other online archives, please inform us so sources can be credited.
Commentary From The Cedar Lounge Revolution
4th June 2013
This document, issued by the Research Section of SFWP is of particular interest appearing as it did during a period where the issue of nuclear power loomed large in the consciousness of Irish citizens due to the possibility of a nuclear reactor being constructed at Carnsore Point. That never came to pass, but the document attempts to engage with the issue.
It is divided into an Introduction, an overview of various technical and scientific aspects of the production nuclear power, a consideration of Alternatives and Buying Nuclear Power as well as a Conclusion.
In the introduction it notes that in 1978:
…we published a pamphlet on Energy which examined the question of providing electricity by using various fuels in order to produce electricity as cheaply as possible. We considered that nuclear power would not give us cheap electricity. Since then there have been further developments in relation to energy sources and we believe that a full and public debate on the issues involved in the energy problem for Ireland is essential.
At this remove it is interesting to see the mention of nuclear fusion reactors, which the text notes 'Fusion reactors are not likely [to be in use] before about 2,000 or later'.
It notes the events at Three Mile Island in the United States where 'mechanical and human failures led to a release of low-level radiation into the atmosphere around the Three Mile Island plant'. It continues 'The anti-nuclear lobby seized on the accident as proof positive that all nuclear reactors are unsafe and therefore should be closed down. Countries with nuclear power plants, the vast majority of them, did not see the wisdom of closing down nuclear power plants'.
In light of the Chernobyl accident only a short number of years later the following appears somewhat optimistic:
The nuclear accident at Harrisburg caused expressions of concern around the world. Energy officials in the Soviet Union and elsewhere let it be known that while increased precautions may be taken the nuclear power programme will go forward. In an interview with the newspaper Trud Fyodor I. Ovchinnikov, the Deputy Minister of Electricity and Electrification, said that the possibility of a slip-shod attitude existed where private interests, in this case those of the owner of the nuclear energy station, were regarded as of paramount importance.
The section on Alternatives is somewhat cursory, and argues that 'what the anti-nuclear lobby are asking countries with an urgent and vital need for supplies of cheap energy to do is take a theory on trust, to make an act of faith in the possibility of producing great quantities of electricity in this way.'
The Conclusion clearly points towards the eventual use of nuclear power, albeit suggesting that in the context of reactors produced in the United States 'the private enterprise approach is obviously not making sufficient safety provisions' while 'nuclear power stations built in socialist countries are more advanced on safety… but this may mean they are more costly to build and therefore will not compare favourably with the cost of stations run on conventional fuel'. Interestingly there is no mention made of British or other European reactors.
More from Sinn Féin The Workers' Party
Sinn Féin The Workers' Party in the archive
---