Does Ireland Need a "New Labour"?
Extracts from an address by Dr. Pat Upton, T.D. to the Tom Johnson Summer School, Dunmore East, Co. Waterford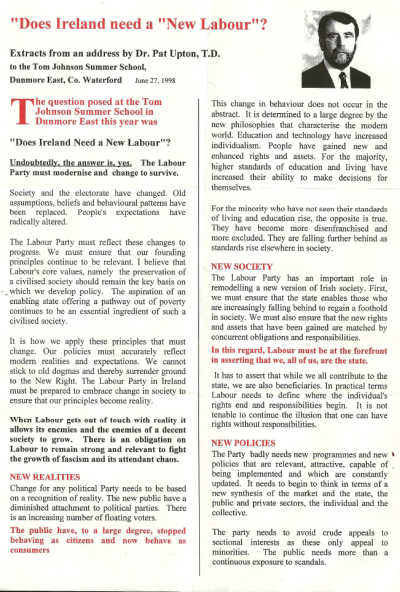 Please note:  The Irish Left Archive is provided as a non-commercial historical resource, open to all, and has reproduced this document as an accessible digital reference. Copyright remains with its original authors. If used on other sites, we would appreciate a link back and reference to The Irish Left Archive, in addition to the original creators. For re-publication, commercial, or other uses, please contact the original owners. If documents provided to The Irish Left Archive have been created for or added to other online archives, please inform us so sources can be credited.
Commentary From The Cedar Lounge Revolution
15th April 2013
Many thanks to Irish Election Literature for this document which is a very useful document that in a few short pages offers an insight into the thinking of some in the Irish Labour Party in the late 1990s. It consists of the text of a speech given at the Tom Johnson Summer School. In it Upton who was Teachta Dála for Dublin South–Central outlines his vision of a "New Labour" for the 21st century. Notable is the manner in which it draws upon aspects of the then victorious British Labour Party under Tony Blair in terms of positioning and language.
A few short quotes will suffice to give a flavour of the text:
When Labour gets out of touch with reality it allows its enemies and the enemies of a decent society to grow. There is an obligation on Labour to remain strong and relevant to fight the growth of fascism and its attendant chaos.
The public have, to a large degree, stopped behaving as citizens and now behave as consumers.
It is important to deliver what is promised. That is what consumers expect. That is what they experience in other aspects of life be it with the travel agent or the supermarket.
In practical terms Labour needs to define where the individual's rights end and responsibilities begin. It is not tenable to continue the illusion that one can have rights without responsibilities.
More from Labour
---