Resistance: Civilian Resistance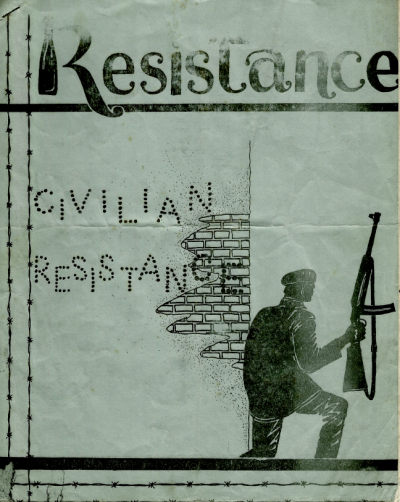 Please note:  The Irish Left Archive is provided as a non-commercial historical resource, open to all, and has reproduced this document as an accessible digital reference. Copyright remains with its original authors. If used on other sites, we would appreciate a link back and reference to The Irish Left Archive, in addition to the original creators. For re-publication, commercial, or other uses, please contact the original owners. If documents provided to The Irish Left Archive have been created for or added to other online archives, please inform us so sources can be credited.
Commentary From The Cedar Lounge Revolution
25th February 2013
Many thanks to Alan Mac Simoin for scanning and forwarding this document to the Archive.
Unusually there's no clear provenance of this document. It mentions the Civil Rights Movement, People's Democracy and the Republican Movement, and the cover is obviously taken from the famous Joe McCann 'Army of the People' photograph from the Official IRA. That said it appears to have been written by NICRA or PD members and any clarification on it would be very welcome.
It was written in the wake of internment and before the suspension of Stormont in March 1972. As such it calls for the end of internment on foot of what it considers to be a mobilisation of the people. It also focusses on Crossmaglen and gives a detailed list of activities in that area such as protests, barricades and other forms of opposition to the state. There's also a 'Jail Journal' reprinted from the Irish Times which consists of a personal account by Seamus O Tuathail, former editor of the OSF United Irishman and his experiences in Crumlin Road Prison.
The document also states the aims of the groups that it represents, most important of which is the establishment of a 'democratic assembly' and that:
The Assembly would be organised on a 32-county basis, and would lay the foundation for an all-Ireland democratic republic in the tradition of Tone, Connolly and the 1916 Proclamation.
Update:
Many thanks to the person who emailed to say the following: –
'Resistance' is the product of cooperation at a local (Newry) level between PD and the Officials. Sam Dowling was NICRA and Official republican, Niall Vallely was PD. Note how Dowling was the speaker at the protest in Crossmaglen after Harry Thornton's death; the idea of Crossmaglen as a Provo stronghold dates from after 1971. Shows how flux things were at that stage- later that year PD would become more PRM inclined (though former PD members joined both Provos and Officials).
More from Sinn Féin [Official]
Sinn Féin [Official] in the archive
---