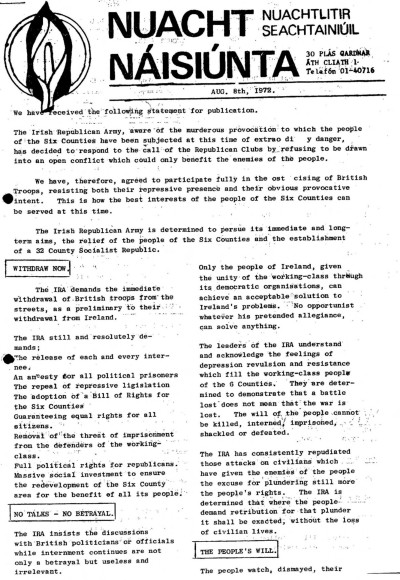 Please note:  The Irish Left Archive is provided as a non-commercial historical resource, open to all, and has reproduced this document as an accessible digital reference. Copyright remains with its original authors. If used on other sites, we would appreciate a link back and reference to The Irish Left Archive, in addition to the original creators. For re-publication, commercial, or other uses, please contact the original owners. If documents provided to The Irish Left Archive have been created for or added to other online archives, please inform us so sources can be credited.
Commentary From The Cedar Lounge Revolution
26th November 2007
I think this fairly well speaks for itself. Published on August 8th 1972 it is a two page newsletter from OSF with a message for the nation (this was donated anonymously as well - again, many thanks to all our unknown benefactors).
It's not quite the United Irishman. But then, nor is it the Irish People which I'll post up in the near future. There's something oddly familiar about the language from the OIRA statement. Here is a grouping in that hazy area between conflict and non-conflict. But note too the emphasis on the working class… And there is the Easter Lily at the top of the page. Strangely evocative.
As was pointed out to me, interesting to see "Saoirse", the support committee for Republican prisoners. What comes around goes around.
More from Sinn Féin [Official]
Sinn Féin [Official] in the archive
---