The United Irishman, Vol. 26, No. 9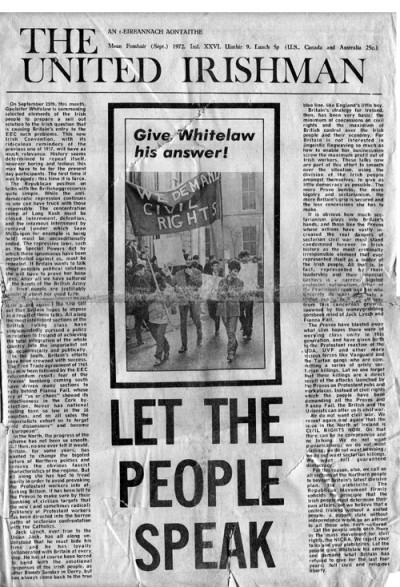 Please note:  The Irish Left Archive is provided as a non-commercial historical resource, open to all, and has reproduced this document as an accessible digital reference. Copyright remains with its original authors. If used on other sites, we would appreciate a link back and reference to The Irish Left Archive, in addition to the original creators. For re-publication, commercial, or other uses, please contact the original owners. If documents provided to The Irish Left Archive have been created for or added to other online archives, please inform us so sources can be credited.
Commentary From The Cedar Lounge Revolution
12th November 2007
Okay, this one (about 5.5mb) is from my own collection (although an anonymous donor has forwarded copies of the UI from the next number of years, and even better an early copy of the Irish People which will go up on the Archive very soon). Apologies for the idiosyncratic scanning too. The paper size is SRA3 or somesuch which makes for an interesting life when trying to fit it onto an A4 scanner.
The United Irishman, a name to conjure with, and a periodical with a fascinating number of editors in previous years. This issue was a year or so after the OIRA ceasefire and it is clear from the text that OSF was in a sort of limbo between armed campaign and complete cessation. Many many members were in prison. The stresses of keeping a previously active paramilitary organisation were evident. And the implicit contradictions in the approach to the six counties clearly delineated.
It takes a strongly 'economist' line. Predictably so. The demand of 'nationalising the Banks' was there, and was still there a decade later when I joined the WP. Fear Talun (Country Man) and Fear Oibre (Working Man) report on the Farm Forum and Industrial Front respectively and the editorial attacks the Provo's 'Economic War'. The enemy is 'British Imperialism', the Provo's are criticised for believing the enemy is the 'decaying Unionist capitalist class' and we read the interesting conjunction of 'Provisional-Fianna Fáil" (although the dearth of 'fada's' is interesting in itself).
The text is revealing. Already the rhetoric is ramping up. We read here about 'Provo-Trots', we read some unkind words about 'Trots' in Peoples Democracy, we read further unkind words about almost everyone else.
Some interesting names in here too. I recommend you look up the column inside about USI, and then there is Martin Meehan, and Eamonn Smullen too.
So, it's all here…
More from The United Irishman
The United Irishman in the archive
---