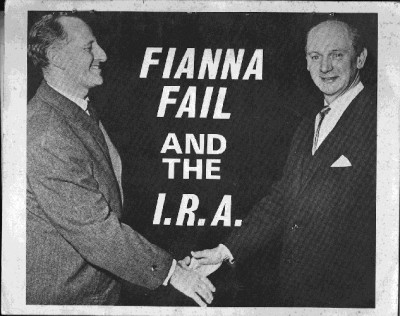 Please note: The Irish Left Archive is provided as a non-commercial historical resource, open to all, and has reproduced this document as an accessible digital reference. Copyright remains with its original authors. If used on other sites, we would appreciate a link back and reference to the Irish Left Archive, in addition to the original creators. For re-publication, commercial, or other uses, please contact the original owners. If documents provided to the Irish Left Archive have been created for or added to other online archives, please inform us so sources can be credited.
Commentary From The Cedar Lounge Revolution
17th March 2008
Now here is an historic document, and one you'll find, should you be interested, in the National Library (Books and Periodicals Ir Ir 300 ).
It covers a lot of ground as regards the relationship between Fianna Fáil and various incarnations of the IRA. And predictably that relationship is painted - broadly speaking - in an unfavourable light. But it is in the late 1960s that it coms into sharp focus. Here the charge is that elements within Fianna Fáil attempted a 'take-over' of the Civil Rights movement in the North, and the Citizens Defence Committees, and in doing so assisted in the birth of the Provisional IRA.
A lot depends in this analysis of whether one can offer any credence to the idea that various parties within the government were clued up enough to act so decisively strategically as regards the IRA. I'm sceptical, but open-minded, on that point. Sceptical if only because it seems to reify the influence of the named Ministers to a seemingly implausible degree on a section within the IRA during a time of massive confusion. And it also serves to increase and exaggerate the influence of SF and the IRA to a perhaps incredible level. Sure, there were those within the state apparatus who saw a Marxist oriented IRA as a threat to social order, but surely that was lower on the list of priorities than other issues... Furthermore, even if true, this cannot ignore the structural issues which led to the split in the IRA and Sinn Féin which long predated any interventions from outside.
Or indeed a complete sincerity on the part of many both within and outside Fianna Fáil during the period who thought they were facing some sort of apocalypse north of the border. The rather cynical spin that the document puts on it may in some respects be accurate, but it is far from the full story. But then, in fairness, by the time this was published (c. 1972) the Officials had seen a shift away from them in terms of support and influence in a manner which in some respects must have seemed all but inexplicable for they with a Marxist programme were the future, were they not?
And incidentally, this version of a muscular 'nationalist' interventionism on the part of FF and others is interesting in itself, because it surely marks the only serious effort on that part since Michael Collins sent material north to the IRA during the Civil War. One might make ones own assessment of the efficacy or otherwise of such interventions, and indeed the cheerleading in this instance of certain sections on the further left who eschew all foreign entanglements.
Incidentally, one wonders whether this sort of attitude to Fianna Fáil was instrumental in the curious sight of generation after generation of former Sinn Féin members (or their political formations) ultimately dealing with Fine Gael to gain a measure of state power. From MacBride onwards we see a pattern emerge. Was this in some respects a response to the executions during the Emergency, a deep rooted sense of 'betrayal' by those who were seen as Republicans or was it simply the result of political competition within a small polity where the larger party was in an hegemonic position?
Anyhow, surely a moot question - until the next time Sinn Féin or split thereof does the deal!
A final couple of thoughts on this matter. The previous evolution of the IRA is presented in relatively uncritical terms and the 'Republican' thrust is taken as given. But then, how could it be otherwise when a core element - in addition to the new leftwards shift - of the legitimacy of those involved in this SF was based on their credentials in previous episodes of activity. The quality of this is quite poor, particularly when compared and contrasted with other material from Official Republicanism. But then, perhaps, despite the copious quotes from Goulding et al this was meant to be a little bit at arms length. No harm then in not having a place of publication. A sort of samizdat from the Officials - as it were. Telling.
More from Sinn Féin [Official]
Sinn Féin [Official] in the archive
---