The Irish People, Vol. 2, No. 35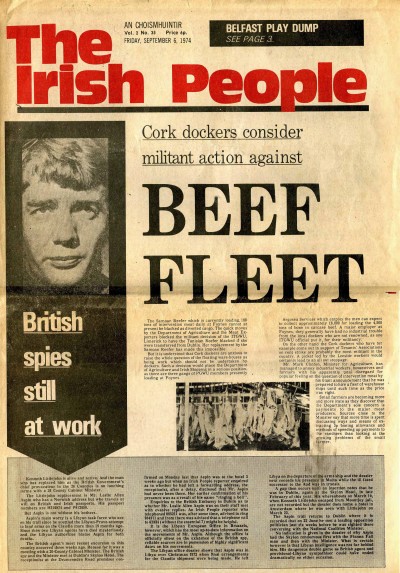 Please note:  The Irish Left Archive is provided as a non-commercial historical resource, open to all, and has reproduced this document as an accessible digital reference. Copyright remains with its original authors. If used on other sites, we would appreciate a link back and reference to The Irish Left Archive, in addition to the original creators. For re-publication, commercial, or other uses, please contact the original owners. If documents provided to The Irish Left Archive have been created for or added to other online archives, please inform us so sources can be credited.
Commentary From The Cedar Lounge Revolution
3rd December 2007
Okay, another anonymous donation (and again we're very grateful for it). And this one provides an interesting contrast with the copy of the United Irishman from some weeks back. For here is an Irish People, august paper of Official Sinn Féin, from 1973. (Apologies about the file size. This is about 10mb's).
By now the ceasefire was bedded in. The IRSP and PLA/INLA were some months into the future. And we see a document that on the one hand - with the emphasis on industrial struggle, playgrounds and 'threats to aged tenants' was not disimilar to the IPs I used to hawk around Dublin North East in the 1980s - while on the other hand was quite radically different. Note the mention of NICRA etc, the front cover story about the Littlejohns. There is a whiff of the cold war about it… although intriguingly little or nothing about the rest of the world bar a curious little comparison between Qutar and Ireland as regards oil rights… And the editorial about Enoch Powell who at that point had just joined the Ulster Unionists, while entirely correct, speaks of another world.
There is still a reflexive Republicanism in some of the pieces. Note the mention of Lord Mountbatten. And the 'Screw's cause prison unrest' article would hardly find it's way into a party political paper today.
A central ideology is hard to distinguish. Certainly there is nothing of the tedious verbiage of BICO or other formations on the further left… And a final point. Essentially no mention of OSF within these pages. Just the Republican Clubs.
Anyhow, here it is…
More from The Irish People
The Irish People in the archive
---