The Irish People, Vol. 3, No. 33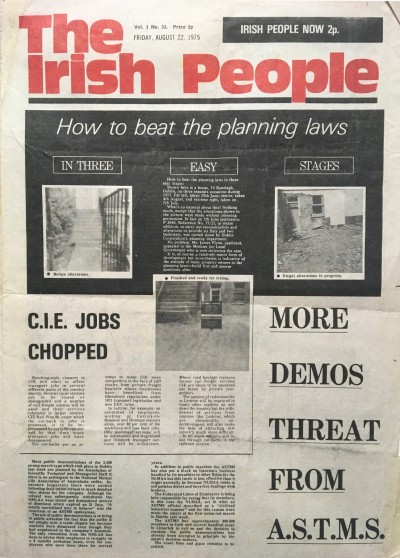 Please note:  The Irish Left Archive is provided as a non-commercial historical resource, open to all, and has reproduced this document as an accessible digital reference. Copyright remains with its original authors. If used on other sites, we would appreciate a link back and reference to The Irish Left Archive, in addition to the original creators. For re-publication, commercial, or other uses, please contact the original owners. If documents provided to The Irish Left Archive have been created for or added to other online archives, please inform us so sources can be credited.
Commentary From The Cedar Lounge Revolution
3rd September 2018
Many thanks to the person who forwarded this to the Archive.
This edition of the Irish People has a range of articles including 'How to Beat the Planning Laws', 'CIE Jobs Chopped' and More Demos Threat from A.S.T.M.S. Association of Scientific, Technical and Managerial Staff. This last links with the document posted in the Archive last week.
The editorial, entitled 'Murder' notes that the 'Invitation of the [Official] IRA to all Northern paramilitary groups to sit down and discuss some way out of the civil war situation that seems to be coming to a head, after having been forward for years, will bear fruit.
It is better to light a candle than to sit cursing the darkness and anyone who fears the outcome of a full scale civil war must take a stand now or accept he consequences. The situation has deteriorated to a frightening level in the past week People now feel that they are living in a doomsday situation and that the slightest wrong move could push the entire North over the brink.
Though it notes:
The reaction father UDA to the proposals is discouraging on the surface but a door-to-door survey in Loyalist areas, if it is carried out as promised might show that there is a strong desire at street level for an end to the carnage.
Other issues include the issue of an oil refinery in Dublin, which has under the "Pro's" Eamon Smullen and the "Con's" Sean Loftus.
More from The Irish People
The Irish People in the archive
---