The Irish People, Vol. 9, No. 13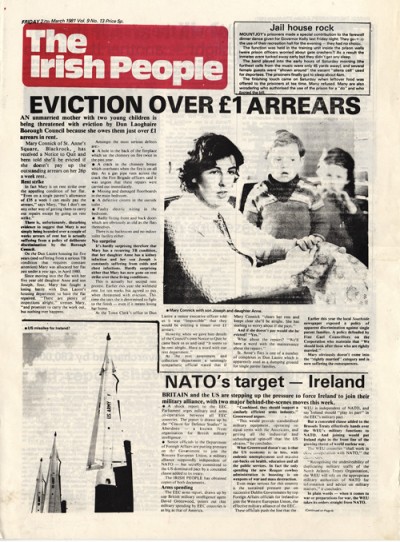 Please note:  The Irish Left Archive is provided as a non-commercial historical resource, open to all, and has reproduced this document as an accessible digital reference. Copyright remains with its original authors. If used on other sites, we would appreciate a link back and reference to The Irish Left Archive, in addition to the original creators. For re-publication, commercial, or other uses, please contact the original owners. If documents provided to The Irish Left Archive have been created for or added to other online archives, please inform us so sources can be credited.
Commentary From The Cedar Lounge Revolution
18th February 2008
Allow me a nostalgic moment this week, for here, in all its glowing somewhat maroon marooness (check out the masthead - never quite red in colour), is "The Irish People", from Sinn Féin the Workers' Party from 1981. This, the ultimate successor of the United Irishman was to become the document probably most widely distributed by the SFWP/WP over the years, and certainly the one most widely recognisable to pub goers across Dublin and other centres around the country.
For it was there that my earliest political activity was concentrated having joined the party only a couple or so years later. Is there any more humbling experience than carrying bags worth of political papers around pubs and housing estates on a Saturday or Sunday afternoon and hoping against experience that a friends father will buy one from pity or exasperation? The Provo's had, frankly, a vastly more organised way of selling An Phoblacht/Republican News and on more than one occasion I encountered groups in semi-military regalia in various pubs in the inner city. That seemed to die away in the late 1980s, early 1990s.
And let's not underestimate the way in which the paper becomes in some ways the signifier of political activism for many a left party. Having said that the WP was a bit more ambitious than many and - more importantly - a lot more cohesive and even at this point had elected councillors and such like to provide at least some semblance of political activity in a different forum.
As to the document itself, well, it's as one might expect. Nuts and bolts socialism with an eye on NATO. That a fairly similar piece appeared five years later is neither here nor there. I have to smile at the picture of Pat McCartan, now Judge McCartan, on page 2. And note how the party identification is not played up. No form here to inveigle the unwary into the joys of Marxist-Leninism. No trumpeting the inevitable collapse of capitalism and the vanguard position of SFWP. Instead a diet of mundane, but entirely truthful stories about life in Ireland in 1981 with a sort of internationalism - note the story on page 4 about Fine Gael links with the junta in El Salvador. As to the North? Well, not a whisper. Perhaps the party recognised just how little that played south of the border…
It's an interesting thought, isn't it, that in all probability many many issues of the IP were printed over the years, and yet as it happens I never kept one, and I'll bet most other members or former members of the WP didn't either. It's remarkable how ephemeral all this material is. Printed on low grade, slightly transparent paper, the inks and photographic reproduction muddy and uneven. It's a seemingly fragile container for a sort of kind of revolutionary message.
Still, it must have worked on some level, maroon or not, to judge from the increasing vote the party got. And maybe in its own way was actually more sophisticated than on first view.
More from The Irish People
The Irish People in the archive
---