Marxist-Leninist Weekly, Vol. 19, No. 21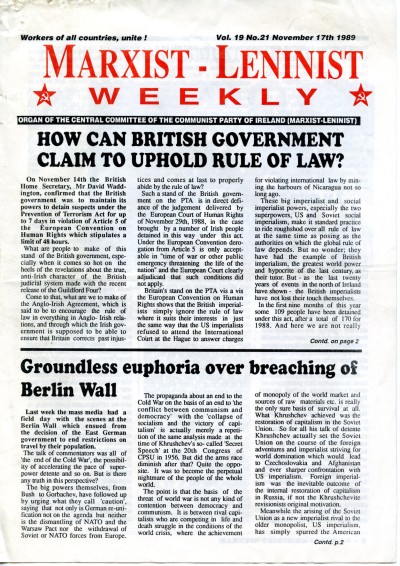 Please note:  The Irish Left Archive is provided as a non-commercial historical resource, open to all, and has reproduced this document as an accessible digital reference. Copyright remains with its original authors. If used on other sites, we would appreciate a link back and reference to The Irish Left Archive, in addition to the original creators. For re-publication, commercial, or other uses, please contact the original owners. If documents provided to The Irish Left Archive have been created for or added to other online archives, please inform us so sources can be credited.
Commentary From The Cedar Lounge Revolution
7th January 2013
This edition of the CPI (M-L) publication, Marxist-Leninist Weekly, is perhaps most notable for the date of publication, and for the lead article on page one which has the headline 'Groundless euphoria over breaching of Berlin Wall'. The article continues:
Last week the mass media had a field day with the scenes at the Berlin Wall which ensued from the decision of the East German Government to end restrictions on travel by their populations.
And the article takes a bleak view of what it regards as two capitalist systems, one in the West and the other in the USSR vying for hegemony. It asserts:
Gorbachev's policy of 'glasnost', openness or 'democracy, is simply a demagogic enticement to the Soviet working class to accept still greater exploitation to overcome the economic and political crisis of revisionism in their bloc by the open restoration of capitalism (known as perestroika), so that the new Soviet bourgeoisie can the more efficiently finance the sinews of capitalist competition in the world market and also the sinews of war. The events in the Soviet bloc, each more rapidly following the other, do not auger a reduction in international tension and the danger of inter-imperialist war.
It ends:
(Next week, an article to explain further how the so-called 'contention between democracy and communism' cannot be the basis of the treat of world war since these are not opposites in the first place).
Other articles deal with a broad range of issues including the British Government maintaining the Prevention of Terrorism Act powers of detention for 7 days, a subventions cut for places in old people's homes, the Brazilian election campaign and El Salvador.
As interesting are the advertisements for Progressive Books, the CPI (M-L) bookshop on Essex Quay in Dublin, and for Public Meetings on the Anniversary of National Liberation of Albania in Cork and Dublin.
It is worth noting that the CPI (M-L) managed to put out this publication on a weekly basis for many years.
More from Marxist-Leninist Weekly
Marxist-Leninist Weekly in the archive
---