Marxist-Leninist Weekly, Vol. 18, No. 16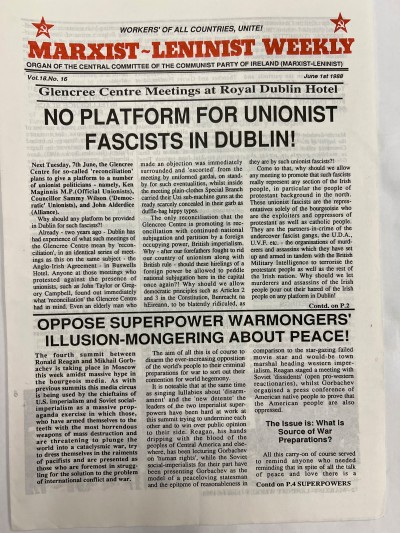 Please note:  The Irish Left Archive is provided as a non-commercial historical resource, open to all, and has reproduced this document as an accessible digital reference. Copyright remains with its original authors. If used on other sites, we would appreciate a link back and reference to The Irish Left Archive, in addition to the original creators. For re-publication, commercial, or other uses, please contact the original owners. If documents provided to The Irish Left Archive have been created for or added to other online archives, please inform us so sources can be credited.
Commentary From The Cedar Lounge Revolution
3rd July 2023
Many thanks to the person who donated this to the Archive.
This edition of Marxist-Leninist Weekly, from the Communist Party of Ireland (Marxist-Leninist), has a particularly striking headline. Under the subheading 'Glencree Centre Meetings at Royal Dublin Hotel' it states: 'No Platform for Unionists Fascists in Dublin!'.
It asserts:
Next Tuesday, 7th of June, the Glencree Centre for so-called 'reconciliation' plans to give a platform to a number of unionist politicians, namely Ken Maginnis M.P. (Official Unoinist), Councillor Sammy Wilson ('Democratic' Unionists), and John Alderdice (Alliance).

Why should any platform be provided in Dublin For such fascists?!
It continues:
These unionist fascists are the representatives solely of the bourgeoisie who are the exploiters and oppressors of protestant as well as catholic people. They are the partners-in-crime of the undercover fascist gangs, the U.D.A., U.V.F. etc – the organisations of murderers and assassins which they set up and armed in tandem with the British Military Intelligence to terrorise the protestant people as well as the rest of the Irish nation. Why should we let murderers and assassin fo the Irish people pour out their hatred of the Irish people on any platform in Dublin!
And it also notes that a picket by CPI (M-L) is being placed on the series of meetings.
Other pieces include a scathing analysis of 'Superpower warmongers' illusion-mongering about peace!' As well as one on health cuts and their impact on the 'lives of ordinary people'.
More from Marxist-Leninist Weekly
Marxist-Leninist Weekly in the archive
---