Marxist-Leninist Weekly [November 1985]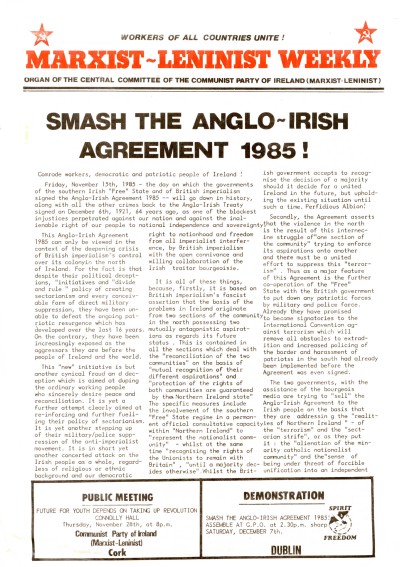 Please note:  The Irish Left Archive is provided as a non-commercial historical resource, open to all, and has reproduced this document as an accessible digital reference. Copyright remains with its original authors. If used on other sites, we would appreciate a link back and reference to The Irish Left Archive, in addition to the original creators. For re-publication, commercial, or other uses, please contact the original owners. If documents provided to The Irish Left Archive have been created for or added to other online archives, please inform us so sources can be credited.
Commentary From The Cedar Lounge Revolution
27th November 2017
Many thanks to the person who forwarded this to the Archive.
This edition of Marxist Leninist Weekly from CPI (M-L) focuses on the Anglo-Irish Agreement. It states that:
Friday November 15th, 1985, the day on which the governments of the southern Irish 'Free' State and of Britsih imperialism singed the Anglo-Irish Agreemnt 1985 – will go down in history along with all the other crimes back to the Anglo-Irish Treaty signed on December 6th, 1921, 64 years ago, as one of the blackest injustices perpetrated against our nation and against the inalienable right of our people to national independence and sovereignty.
In essence the publication contains but a single essay on this topic and it concludes:
Patriotic, revolutionary violence to overthrow this whole rotten system arises as THE ONLY JUST ALTERNATIVE TO CONTINUED NATIONAL ENSLAVEMENT AND DIVISION. This is part and parcel of all the national liberation movements and anti-imperialist struggles and the world proletarian socialist revolution as a whole which are a matter of NECESSITY TO SAVE THE COUNTRIES AND THE WORLD'S PEOPLE FROM IMPERIALIST SLAVERY AND FROM WORLD WAR. This is the NECESSITY FOR REVOLUTION.
And it signs off:
SMASH THE ANGLO-IRISH AGREEMENT 1985! UNITY AND FREEDOM TO THE IRISH PEOPLE! FREEDOM AND PEACE TO THE WORLD'S PEOPLE!
More from Marxist-Leninist Weekly
Marxist-Leninist Weekly in the archive
---