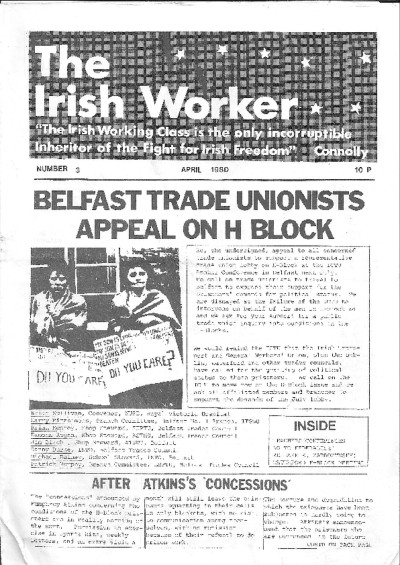 Please note:  The Irish Left Archive is provided as a non-commercial historical resource, open to all, and has reproduced this document as an accessible digital reference. Copyright remains with its original authors. If used on other sites, we would appreciate a link back and reference to The Irish Left Archive, in addition to the original creators. For re-publication, commercial, or other uses, please contact the original owners. If documents provided to The Irish Left Archive have been created for or added to other online archives, please inform us so sources can be credited.
Commentary From The Cedar Lounge Revolution
25th October 2021
Many thanks to Alan Kinsella/Irish Election Literature for this document. He notes 'paper from April 1980, which concentrates on The H-Block Campaign and other issues. There is no organisation listed as publishing it, although Paddy Healy has an article in it and the address given is the same as The League For A Workers Republic'.
That the organisation is not listed is interesting and any explanation for this would be useful. The LWR continued to exist into the 1990s.
The contents covers many topics, but the focus on the front page is on appeals from Belfast Trade Unionists for support for those in the unions who supported the H-Block hunger strikers and their demands for political status to convey these to the ICTU. It notes: 'We call on the ICTU to move now on the H-Block issue and we ask all affiliated members and branches to support the demands of the July lobby'.
The editorial argues that workers must 'fight the cuts – North and South' and argues 'all these attacks on workers' living standards show that a divided Ireland, with two distorted, backward economies, has nothing to offer Irish workers. A united struggle of all Irish workers, against the division in the ICTU, and for a United Ireland is the only answer'.
Other pieces argue for pressure on the INTO and ASTI in relation to the H-Block demands and links this is with under financing of education on the island. Paddy Healy, as noted by Alan Kinsella, has a piece arguing against a federal solution for Ireland, noting 'there is no solution for the workers and small farmers of Ireland except one parliament and one government for the whole country'.
Another article, by Carol Coulter, examined a trade union delegate and dissident worker, Edmund Zadrozynsky, in Poland who was imprisoned for three years. Notably the case saw some support for the campaign to free him from member of the ITGWU, the TUI and the ASTI as well as member of the Labour Party.
An interesting document that in essence is focused most clearly on the H-Blocks issue.
More from League for a Workers Republic
League for a Workers Republic in the archive
---