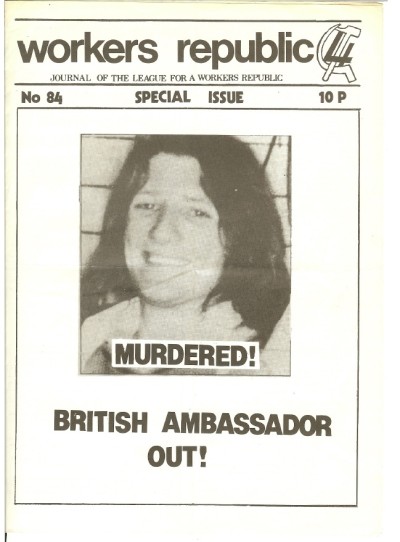 Please note:  The Irish Left Archive is provided as a non-commercial historical resource, open to all, and has reproduced this document as an accessible digital reference. Copyright remains with its original authors. If used on other sites, we would appreciate a link back and reference to The Irish Left Archive, in addition to the original creators. For re-publication, commercial, or other uses, please contact the original owners. If documents provided to The Irish Left Archive have been created for or added to other online archives, please inform us so sources can be credited.
Commentary From The Cedar Lounge Revolution
2nd January 2012
Firstly, many thanks to Rob Marsden at The Red Mole Project  for the scan of this document and forwarding it to the Archive. Rob has been good enough to scan another document or two which are of relevance to the Irish Left. For anyone not familiar with The Red Mole Project it provides an huge archive of Red Mole and associated publications and material.
This document from 1981 from the League for a Workers Republic is first and foremost concentrated on the death of Bobby Sands on hunger strike. It joins this document  from the LWR published a few years later. At that point the LWR was the Irish Section of the Fourth International (International Centre of Reconstruction) and a full overview of the organisation can be found here.  
It argues that:
The British Government has cold-bloodedly murdered Bobby Sands. The British government intransigently refused to concede the just demands of Bobby Sands, for which he fasted to his death. It refused, despite the democratically expressed wishes of the people of Fermanagh-South Tyrone, who voted for Sands and his demands. It refused despite the tens of thousands of appeals from members of the labour and democratic movement world-wide.
It also blames Charles Haughey, '[who] refused to publicly demand Britain concede… and refused to meet the elected councillors of Fermanagh/South Tyrone… refused to meet the national H-Block Committee… ' and it calls for the 'British Ambassador Out!'. It also argues that 'now is the time for continuous stoppages, for strikes and demonstrations, for a general strike to force Thatcher to concede and to save the other hunger strikers'.
And it continues:
There can be no place in the Irish labour movement, in the movement founded by Connolly, for those who now stand by Britain's murderous policy. Only those union leaders who support the actions of the workers against Britain have any place in the labour movement.
Other pieces include an LWR reply to Peoples' Democracy, where it takes issue with an article in the paper of Peoples' Democracy about the LWR entitled 'An Infantile Disorder'.
There is also an article on 'Electoral Strategy: Against Participation in Leinster House' which restates the LWR's fundamental antagonism to participation in either Westminster or Leinster House parliaments.
More from Workers' Republic
Workers' Republic in the archive
---