Workers' Republic, No. 96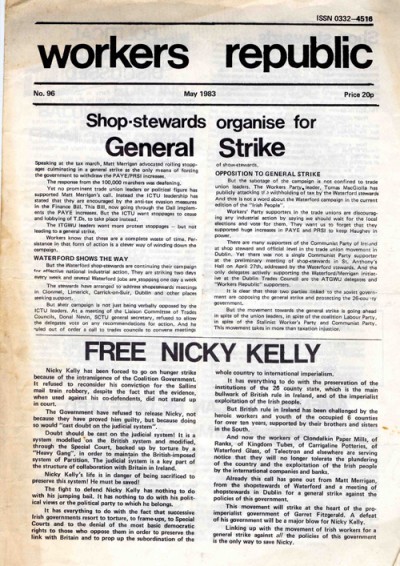 Please note:  The Irish Left Archive is provided as a non-commercial historical resource, open to all, and has reproduced this document as an accessible digital reference. Copyright remains with its original authors. If used on other sites, we would appreciate a link back and reference to The Irish Left Archive, in addition to the original creators. For re-publication, commercial, or other uses, please contact the original owners. If documents provided to The Irish Left Archive have been created for or added to other online archives, please inform us so sources can be credited.
Commentary From The Cedar Lounge Revolution
25th July 2011
This document issued in May 1983 was published by the League for a Workers Republic, at that point the Irish Section of the Fourth International. For an overview of the LWR see here .
The lead article details how shop-stewards organise for a General Strike but that…
…no prominent trade union leaders or political figure has supported Matt Merrigan's call. Instead the ICTU leadership has stated that they are encouraged by the anti-tax evasion measures in the Finance Bill. This Bill, now going through the Dáil implements the PAYE increases. But the ICTU want stoppages to cease and lobbying of individual T.D.'s to take place instead.
It also has a piece on the Nicky Kelly campaign which notes that:
British rule in Ireland has been challenged by the heroic workers and youth of the occupied 6 counties for over ten years, supported by their brothers and sisters in the South.
There are a range of articles engaging with topics such as Trades Councils, an account of a Polish strike committee organizer and founder of the Polish Socialist Workers' Party at his trial by the Polish regime and reference to the anti-abortion amendment to the Constitution, which had yet to be determined.
There's also an editorial that criticises Brendan Doris [of CPI M-L] and Joe Duffy, then the leadership of the Union of Students in Ireland, for not running a national campaign or press conferences against education cuts.
Careful study of the names of those involved will point to one or two familiar to the Left Archive.
More from Workers' Republic
Workers' Republic in the archive
---