Outline policy on Church and State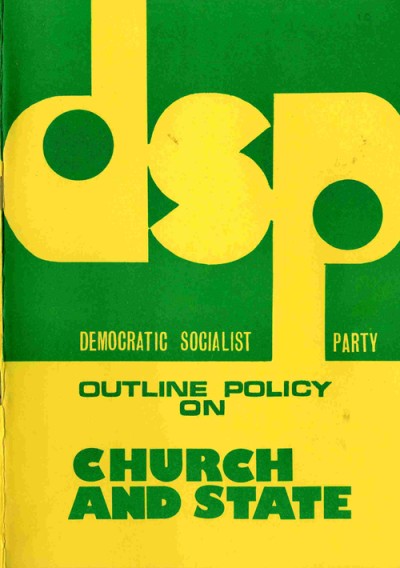 Please note:  The Irish Left Archive is provided as a non-commercial historical resource, open to all, and has reproduced this document as an accessible digital reference. Copyright remains with its original authors. If used on other sites, we would appreciate a link back and reference to The Irish Left Archive, in addition to the original creators. For re-publication, commercial, or other uses, please contact the original owners. If documents provided to The Irish Left Archive have been created for or added to other online archives, please inform us so sources can be credited.
Commentary From The Cedar Lounge Revolution
7th March 2011
This is the first document from the Democratic Socialist Party that has been added to the Archive, a notable omission. The DSP is most famously the organisation founded by Jim Kemmy in the very early 1970s following his departure from the Labour Party.
It was notable for its social liberalism on a range of issues, including the areas covered in this document, as well as being strongly anti-Republican. In that respect there was some crossover of activities with both BICO and the Socialist Party of Ireland (1970s). Kemmy was elected to the Dáíl in 1982 where he remained until well after the merger of the DSP with the Labour Party in 1990. The wiki page above suggests that some members of the DSP later joined Democratic Left. As has been noted here , a number of contemporary Labour Tds can trace their political lineage back to the DSP.
The document itself is, as it notes, an 'outline' policy on Church and State. As it states in the introductory paragraphs:
The DSP stands for the separation of church from state in the Republic of Ireland. We are not opposed to religion: rather, we view it as a private matter between the individuals and his/her church, if he/she has one. We recognise the rights of individuals, churches and religious associations to hold and proclaim their various views; we oppose the enshrining of religious beliefs in law. In particular we believe that religious organisations would not control public institutions. Democratic control of such institutions and public accountability for public funds: these are the keystones of our policy in this area.
And overview of past Church State relations is provided and this engages with a range of areas, including Education, Divorce, Contraception, Health and 'Other areas in need of reform'.
There is a veiled reference to abortion under Health, and the Education area is dealt with in some detail. All told it makes for striking reading some thirty years later.
**IEL adds I'm lucky enough to have a few Election leaflets from the DSP that may add to the article. John De Courcy Ireland from November 1982  and the 1984 European Elections  as well as a 1984 'Special Election Edition' of The Free Press.  
More from Democratic Socialist Party
Democratic Socialist Party in the archive
---