The Irish Communist, No. 94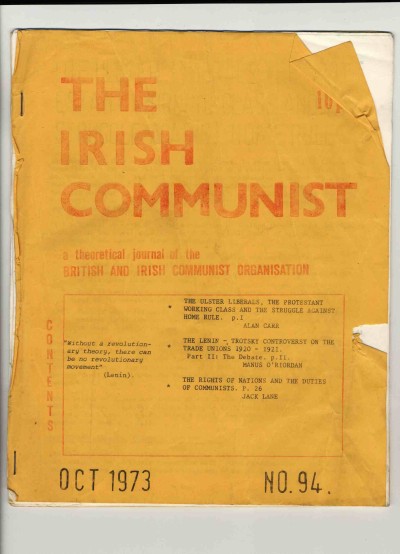 Please note:  The Irish Left Archive is provided as a non-commercial historical resource, open to all, and has reproduced this document as an accessible digital reference. Copyright remains with its original authors. If used on other sites, we would appreciate a link back and reference to The Irish Left Archive, in addition to the original creators. For re-publication, commercial, or other uses, please contact the original owners. If documents provided to The Irish Left Archive have been created for or added to other online archives, please inform us so sources can be credited.
Commentary From The Cedar Lounge Revolution
9th August 2007
As half-promised here is a PDF (6mbs large) of the Irish Communist, the theoretical journal of the British and Irish Communist Organisation. Dating from 1973 TIC was a typewritten journal, 36 pages long. My apologies for the somewhat idiosyncratic scanning and the unusual angles.
In any case the journal contains three articles, one on the "Ulster Liberals, the Protestant Working Class and the Struggle against Home Rule", one on "The Lenin-Trotsky Controversy on the Trade Unions 1920 - 1921" and "The Rights of Nations and the Duties of Communists". Intriguingly the same names as we see in the Irish Historical Review appear here. The consistency within BICO and its successors - in terms of those involved - is quite striking.
The emphasis on Leninism is also evident. The quote on the front is "Without a revolutionary theory, there can be no revolutionary movement". As interesting in its own way is the list of periodicals, pamphlets and books issued by BICO on the last two pages. An eclectic mix, to be honest. They range from "On the Democratic Validity of the Norther Ireland State" (a bargain at 5p), "The Two Irish Nations: A reply to M. Farrell", "Is Wales a Nation?" (I'd like to see that one) and then a worrying section entitled 'by Stalin' wherein we can feast upon such ideological delights as "Economic Problems of Socialism in the USSR", "On an Article by Engels" and "On Trotsky".
In a way the dustiness of the enterprise is underscored by this nostalgic - if that is the right term - rummaging through arguably one of the most benighted strains in Marxism and taking it with any seriousness.
But the real meat is in the articles. I think they give a real taste of the mixture of ideological certainty, almost complete identification with Stalinism (in the most specific sense of the term) and special pleading as regards the advanced status of the Unionist working class on the island and I'd be interested in any comments on same.
More from British and Irish Communist Organisation
British and Irish Communist Organisation in the archive
---