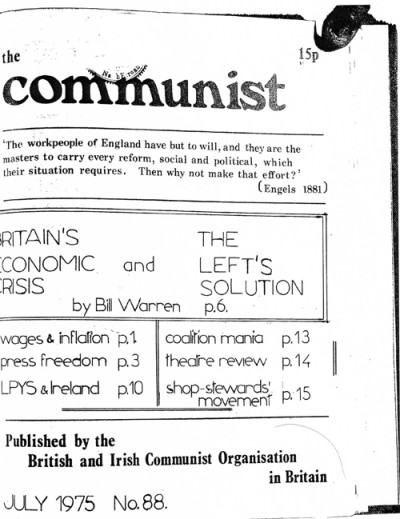 Please note:  The Irish Left Archive is provided as a non-commercial historical resource, open to all, and has reproduced this document as an accessible digital reference. Copyright remains with its original authors. If used on other sites, we would appreciate a link back and reference to The Irish Left Archive, in addition to the original creators. For re-publication, commercial, or other uses, please contact the original owners. If documents provided to The Irish Left Archive have been created for or added to other online archives, please inform us so sources can be credited.
Commentary From The Cedar Lounge Revolution
19th April 2010
Many thanks to an anonymous contributor for forwarding this and penning the following:
About the Communist Magazine:
The Linen Hall Library Catalogue states "the Communist" magazine ran from 1967-1986. Some of the magazine's contributors included Brendan Clifford, (several characteristically inimical pieces on Louis Althusser and Roy Medvedev) Angela Clifford, Jack Lane, Owen Evans (Sep.74, article very hostile to Welsh Nationalism), Nina Stead (pseudonym of Nina Fishman?),Rick Stead, Rosamund Mitchell, Dick Spicer, Davey Young, Niall Cusack,Martin Tyrrell, Mark Cowling, Edmond Riordan, C.K. Maisels (who is listed as a member of the Communist Organisation in the British Isles in G.A. Williams' book "Proletarian Order", so he must have left in the B&ICO/COBI split), M.J. Montgomery (Oct. 1985, one of several "Communist" articles supporting the anti-apartheid movement inSouth Africa) Philip O'Connor,(who later worked on the Aubane Historical Society book "Coolacrease" ) Gwydion Madawc Williams (the son of Raymond Williams) and Peter Brooke (the Irish historian, not the UK Politician).
Brooke was the author of several controversial publications under the Athol Books aegis, including "How Right Are the Racists?" (1978) and the second edition of his "Ulster Presbyterianism : the Historical Perspective, 1610-1970" (1987, Gill and MacMillan, 2nd ed. 1994, Athol Books). He also wrote a chapbook of poetry "Those Two Boys" for Reprisal Press in 1980.
"The Communist" rarely shied away from controversy, and the infamous July 1979 "Special Stalin Centenary Issue" and 1982 editorials defending the Falklands War, seem to have entered UK Left folklore. The Athol Books publication Labour and Trade Union Review, begun in 1987, seems to be "the Communist's" successor. ]
More from The Communist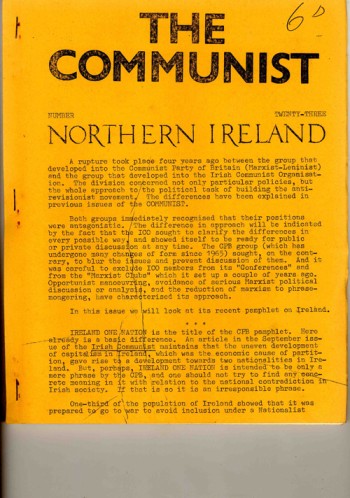 ---