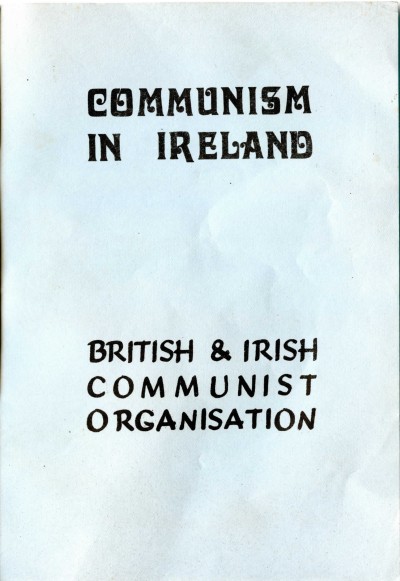 Please note:  The Irish Left Archive is provided as a non-commercial historical resource, open to all, and has reproduced this document as an accessible digital reference. Copyright remains with its original authors. If used on other sites, we would appreciate a link back and reference to The Irish Left Archive, in addition to the original creators. For re-publication, commercial, or other uses, please contact the original owners. If documents provided to The Irish Left Archive have been created for or added to other online archives, please inform us so sources can be credited.
Commentary From The Cedar Lounge Revolution
31st July 2017
Many thanks to the person who forwarded this to the Archive.
This is an interesting addition to the collection of publications from BICO in the Left Archive. Sixteen pages long, it provides an overview of the history of the Communist Party of Ireland from the perspective of the British and Irish Communist Organisation.
It is reasonable to argue that this perspective is deeply critical. Some flavour of this is evident from the opening words of the introduction:
The Communist Party of Ireland has constantly placed itself in a rearguard position, fighting at every stage of the development of Irish society to prevent the society form abandoning ideals which it was outgrowing…

The effect of this ideology has been to shackle the small section of the Irish working class that fell under community influence to the reactionary and unreliable ideals of national self-sufficiency, 'national' unification and defence of the small producer. Basically the CPI has been powerless to retard social development. Realising its impotence the CPI has sought alliances in strange quarters. These have included the republican movement and the most reactionary sections of the Catholic Church.
The remainder of the work is divided into various chapters addressing the development of the CPI.
More from British and Irish Communist Organisation
British and Irish Communist Organisation in the archive
---